Shake, shake, shake up your breakfast routine with this Strawberry Cheesecake Smoothie! It's packed with protein from yogurt and cottage cheese – not chalky protein powders. But don't limit yourself to just breakfast, because this smoothie can also be enjoyed as a satisfying snack or healthy dessert.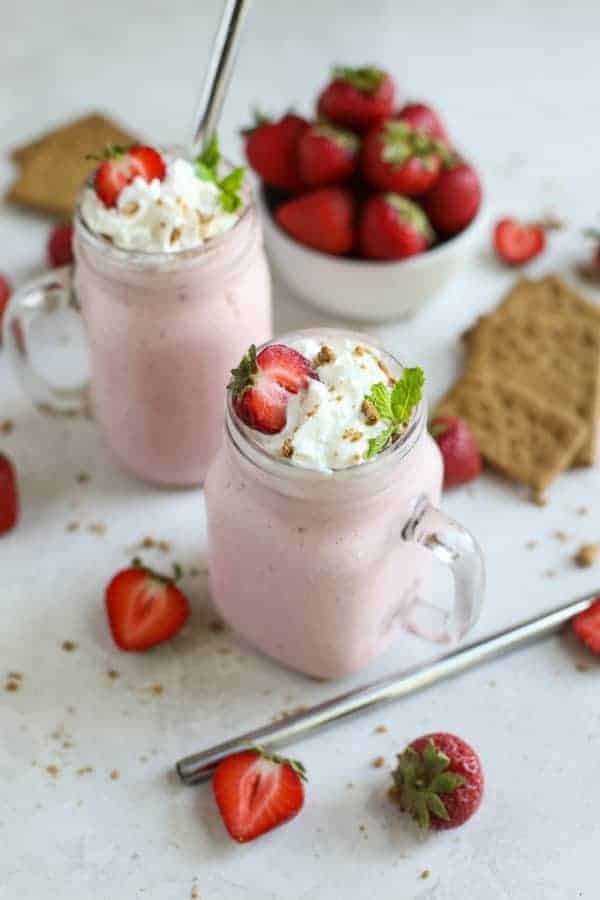 This post was created in partnership with our friends at Organic Valley.
Go ahead, have dessert for breakfast.
No really, go ahead. It's okay when it's a Strawberry Cheesecake Smoothie packed with protein, calcium, and just enough sweetness to make you feel like you're breaking all the healthy eating rules (even though you're not).
True story, my kids will only eat ONE kind of smoothie. Vanilla yogurt + Banana + Peanut Butter + Chocolate chips (it's just a few mini ones, don't judge). They call it a 'Monkey Smoothie' and no lie, it's the only smoothie I've made for them in the past four years. Until this week.
And don't think I haven't tried to convince them to try other kinds of smoothies. I've whipped up countless concoctions over the years and each time it's been something like this: "Too green/too sour/too chalky/too _____." I've even gone so far as to haul the Vitamix downstairs to the furnace room so I could blend in spinach and other veggies without them knowing all to no avail.
I'd pretty much given up and resigned to a life of making 'Monkey Smoothies' several times a week until I send them off to college in about a decade, but then this Strawberry Cheesecake Smoothie happened. And everything changed.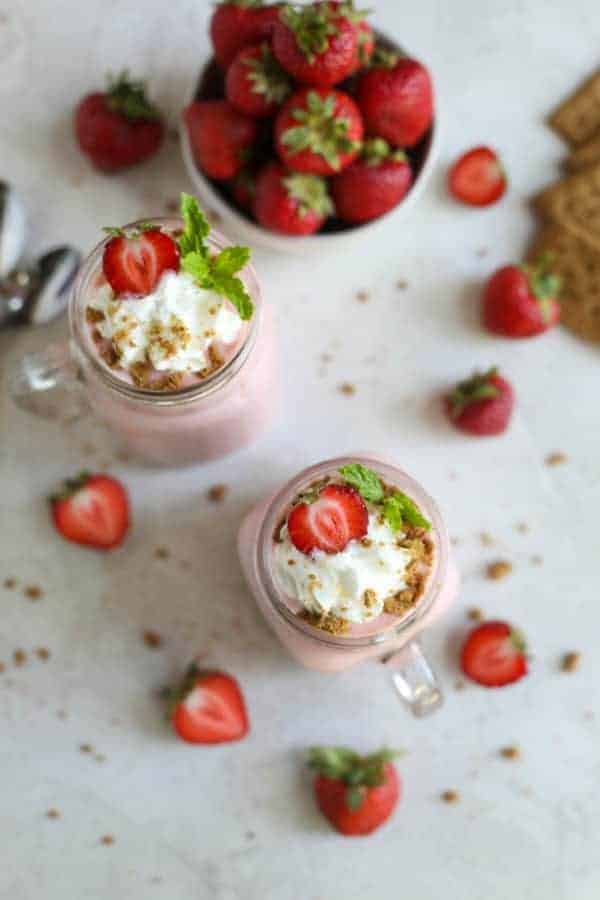 They sucked it right down. Of course, it didn't hurt that I'd fancied it up with whipped cream but there were ZERO complaints. Now, keep in mind I didn't add spinach to this (though I desperately wanted to) but nonetheless, it was a victory in my book. And I'm pretty sure you'll think the same – even if you're not trying to win over two overly critical foodie kids.
This smoothie has it all – sweet, summery berries, a hint of vanilla, protein and the perfect amount of tang just like a good cheesecake should have. Plus it packs an extra nutritious punch thanks to the Organic Valley Grassmilk Yogurt inside.
This Strawberry Shortcake Smoothie doubles as breakfast AND dessert! #realfood #grassmilk
Click To Tweet
Make mine grass-fed
Grass-fed isn't just a term reserved for steaks and burgers! Milk from cows fed a diet of 100% grass or dried forage (hay) is what makes Organic Valley Grassmilk Yogurt so special. Not only does grass impart subtle flavors to the milk, it also increases the omega-3 fatty acids and conjugated linoleic acid (CLA) content. Conjugated linoleic acids are a healthy omega-6 fat with anti-inflammatory effects and thus something you want more of in your diet. Compared to conventional whole milk, Organic Valley Grassmilk contains 147% more omega-3 fatty acids and 125% more CLA.1 Additionally, the ratio of (unhealthy) omega-6 to omega-3 is 1:1 in Organic Valley Grassmilk and 6:1 in conventional milk. 2,3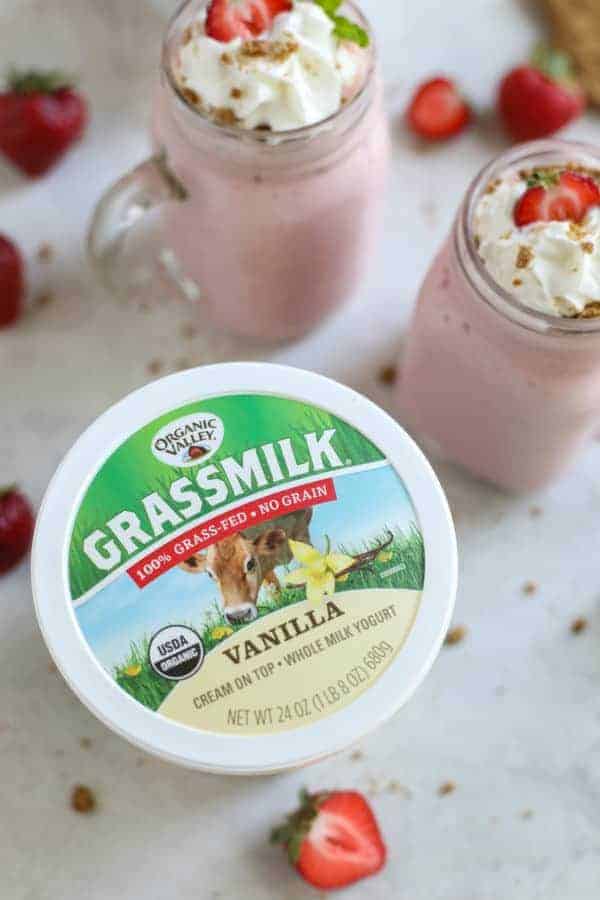 And the taste? Grassmilk tastes the way milk should taste. Rich and creamy with subtle flavor notes that change with the seasons and with the type of pasture the cows graze. And every tub and cup of Organic Valley Grassmilk Yogurt comes with a luscious layer of cream on top.
I personally choose Grassmilk products for my own family
Even though we're lucky enough to have access to raw milk through a 'herdshare' here in Colorado, as a busy working mom I just don't have time to make yogurt and cheese from the milk. And let's be honest, my kids PREFER the Organic Grassmilk Yogurt over my extra-tangy homemade version and they love that it comes in 6-ounce cups for lunches and road trips. I love that I can offer my family the same delicious (and nutrient-dense) options without all the fuss.
To find Organic Valley Grassmilk Yogurt in a store near you use their product locator here.
All the protein without the powder
Protein powders are a great way to add satisfying, muscle-building protein to a smoothie, but if you play your ingredient cards right you can pack your smoothie with plenty of protein without a single scoop of powder. How you ask? With cottage cheese! Not only does it bump up the protein in the Strawberry Cheesecake Smoothie, but it also gives it a rich, silky texture.
Now, did I have to sneak that cottage cheese into the blender? You bet I did. But since it's the same color as the yogurt it was an easy sneak and didn't require me to haul the blender to another room (seriously though, just try telling your kids why you're trucking down the hall with a Vitamix under your arm…believable excuses and plausible explanations are almost impossible to come up within this moment). And they were none the wiser. #momwin #evendietitianshavepickykidssometimes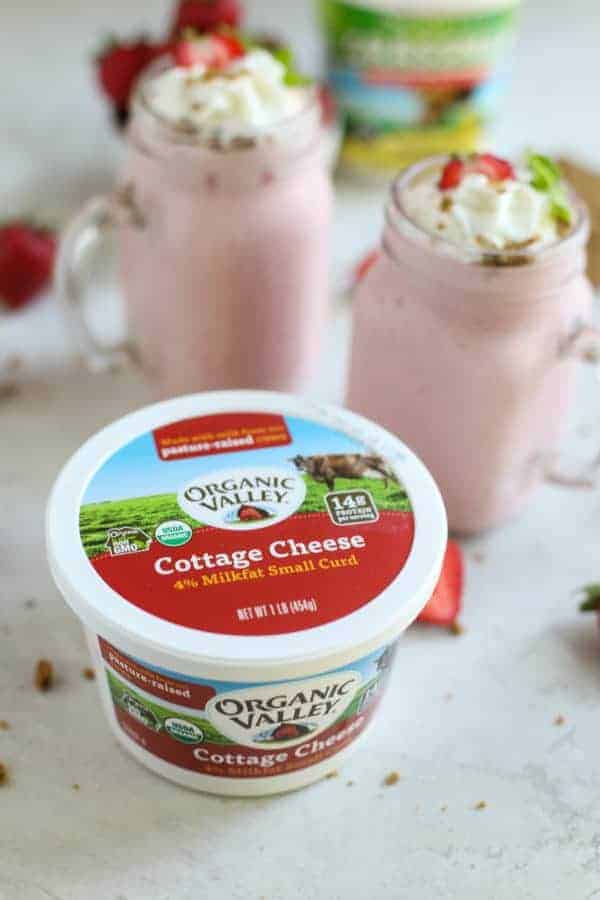 Sources & References:
Organic Grass-Fed Milk Is More Nutritious. It's Science. (n.d.). Retrieved from https://www.organicvalley.coop/resources/organic-grass-fed-milk-nutrition/
What is CLA? (n.d.). Retrieved from http://organicvalley.custhelp.com/app/answers/detail/a_id/3/~/what-is-cla?
Benbrook, C. M., Davis, D. R., Heins, B. J., Latif, M. A., Leifert, C., Butler, G., . . . Baranski, M. (2018, February 28). Enhancing the fatty acid profile of milk through forage-based rations, with nutrition modeling of diet outcomes. Retrieved from https://onlinelibrary.wiley.com/doi/full/10.1002/fsn3.610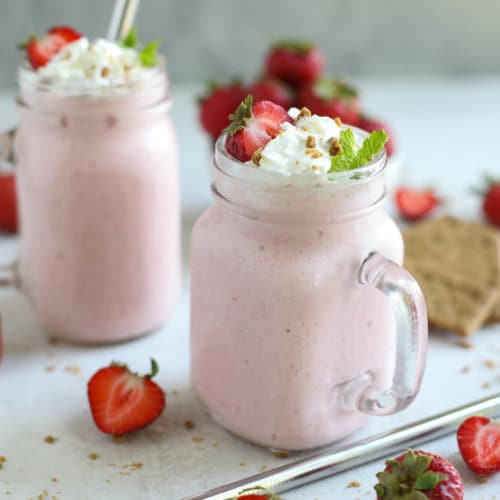 Recipe
Strawberry Cheesecake Smoothie
Prep:
10 mins.
Total:
10 minutes
Servings:
Makes

2

smoothies

1

x
Add yogurt, cottage cheese, strawberries, milk, flax meal and ice to a high-power blender. Blend until smooth.

Stir graham cracker crumbs into smoothie, reserving a pinch of two to sprinkle on top. Pour into glasses, top with whipped cream, if desired and remaining graham cracker crumbs.

To whip cream: Place ¼ cup heavy whipping cream in a small bowl. Whip with a hand mixer or by hand using a whisk until stiff peaks form. 
Last Step! Please leave a review and rating letting us know how you liked this recipe! This helps our business thrive so we can continue providing free recipes and high-quality content for you.
Notes
Notes: *We used Pamela's brand gluten-free grahams, but you can also use our Grain-Free Graham Cracker recipe.)
All photos and content are copyright protected. Please do not use our photos without prior written permission. If you wish to republish this recipe, please rewrite the recipe in your own unique words and link back to the source recipe here on The Real Food Dietitians. Thank you!
Nutrition Information
Serving Size:

2 servings

Calories:

292

Fat:

9g

Sodium:

385mg

Carbohydrate:

33g

(Fiber:

4g

Sugar:

22g

)
Protein:

17g
Dietary
What's your favorite smoothie combo and do you also have to sneak in veggies, protein, etc. without anyone seeing?! Tell us about it in the comments below.
Pin this & Share the love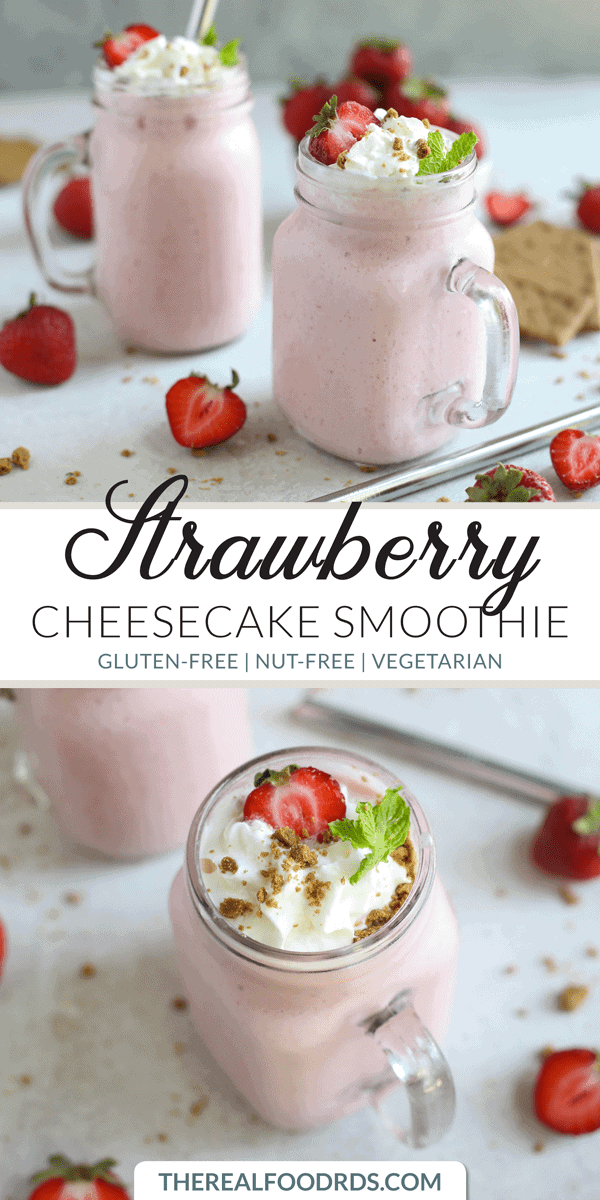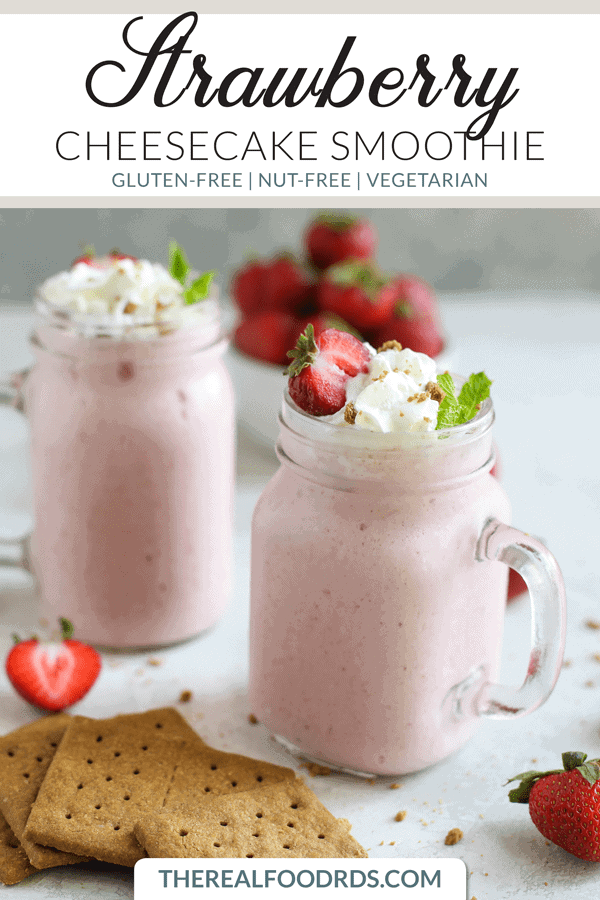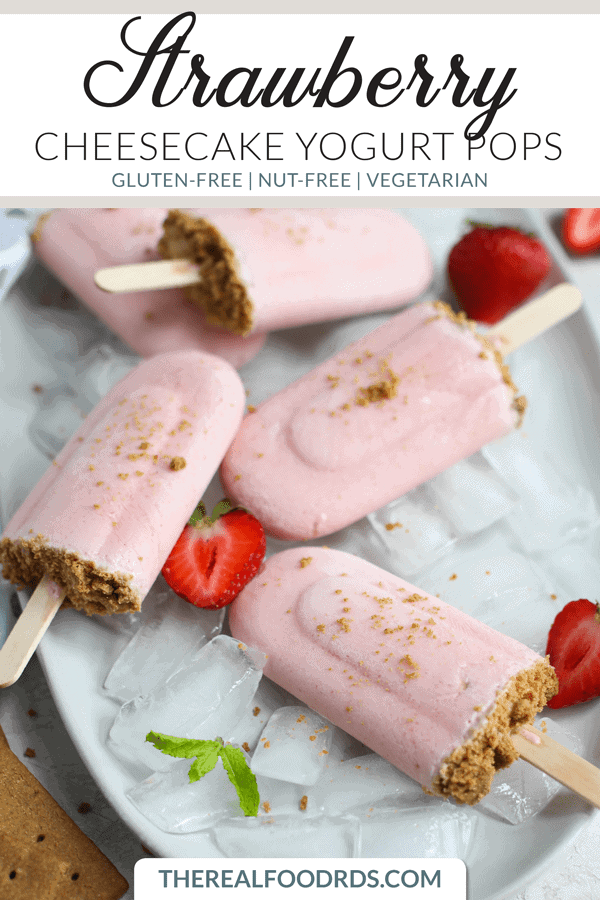 ---
This post was made possible by our friends at Organic Valley. Though we received compensation for this post, the opinions expressed here are  – as always -100% our own. Thank you for supporting the great companies we work with thereby allowing us to continue creating great recipes and content for you.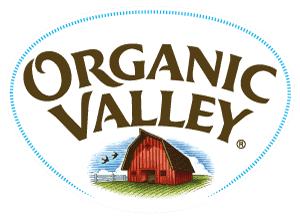 This post may contain affiliate links which won't change your price but will share some commission.