This post is sponsored by Vital Proteins
Gather around the campfire and rekindle those sweet childhood memories with these irresistible Grain-free S'mores
This campfire classic gets a grain-free makeover
S'mores are pretty much synonymous with summer camping trips. There's just something about that warm, gooey, melty marshmallow with it's dark crispy edges sandwiched between two crispy graham crackers and some sweet milk chocolate that's just screams 'summertime'!
The only problem is that many of us can't (or won't) dig into a s'more made with commercially produced marshmallows and graham crackers – either because of food allergies, special diets or we're just not into all of the additives, flavorings, colorings and other questionable ingredients.
So what's s'more lover to do?
Enter the perfect grain-free graham cracker
Following a gluten-free or grain-free diet when you have a life-threatening egg allergy is tough when it comes to 'treats'. Egg is the ultimate binder for gluten-free and grain-free flours and it's in just about everything. I often use a flax gel made from ground flax seeds and water for an egg replacer but that doesn't always give me the texture I want, and I wanted really crispy graham crackers for these s'more – I wanted the crunch of the 'real deal' made with whole wheat graham flour.
For that to happen I knew I'd need to use something that would bind the ingredients together without being gummy. I recalled my first grain-free pie crust made without eggs and how I'd used too much gelatin and the crust was nearly unbreakable. In fact, it was probably less likely to break when dropped than the glass pie plate I'd baked it in. And that's when it dawned on me — I needed to use gelatin to replace the eggs, not flax seeds.
The other 'a-ha' came when I was talking to my dad on the phone while making a test batch and I forgot to add the butter. Those two kitchen mishaps just happened to be the key to the PERFECT grain-free graham cracker. I'm finally starting to realize that not all recipe disasters are disastrous. There's a lot to be learned from making eight batches of graham crackers in the quest for the ultimate grain-free s'more.
Head over heels for s'mores
I could go on forever about just how elated I am about these graham crackers and these homemade marshmallows – both made with Vital Protein Gelatin – but you're probably more interested in how to make them since summer isn't going to last forever.
But before I jump into the recipe, let me just say this. This gelatin works miracles in the kitchen. It's flavorless and mixes easily with warm water. It's also a good source of amino acids that support healthy skin, hair, nails and the immune system and it's made entirely from grass-fed and pastured raised cows. And it's the secret weapon for making the crispiest grain-free graham crackers.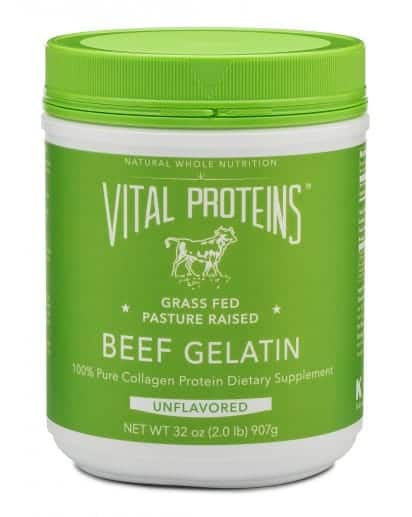 About Vital Proteins: Vital Proteins is committed to providing the highest quality gelatin and collagen products sourced from sustainably raised cattle who spend their days munching grass in the sun. The products provide essential building blocks to support optimal skin, hair, tissue, bone and joint health along with digestive and liver support. You can learn more about Vital Proteins, and their entire line of products here.
How to make the perfect grain-free s'more
Obviously, you want to start with the best ingredients you can source. Then you want to follow the recipe and pay special attention to how you cool the crackers. Depending on how much humidity is in the air, they may need more or less time cooling in the oven before being moved to a wire rack on the counter to cool completely. The good thing is that if they're not as crispy as you want them the first time, you can pop them back into the oven set to the lowest temp for 10 minutes then turn the oven off and allow them to rest for another 20-30 minutes or longer. Once they're crisp they'll stay crisp in an airtight covered container in the pantry for up to 2 weeks.
You'll want to roll the dough out very thin (about 1/8th inch) on a piece of parchment paper so they're easy to transfer to your baking sheet if your rolling pin doesn't allow you to roll them out right on the pan. I like to draw a square on the paper that's the size of the pan the roll the dough to those lines so that the dough will all fit on the pan without hanging over the edges.
Score the crackers into 2-inch x 2-inch squares with a rolling pizza cutter or sharp knife. Now poke holes in each cracker using a toothpick, a wooden skewer or the tines of a fork. They'll not only look super legit but this keeps them from puffing up in the oven and helps them get crispier.
Bake just until the edges start to brown lightly then turn off the oven and leave the oven door cracked open with the pan still inside. Allows the crackers to cool in the oven for 20-30 minutes (longer if the humidity is high) before transferring the pan to a wire rack on the counter to cool completely.
When completely cooled, gently break the crackers apart along the score lines. See how crispy these are!?
Make yourself some s'mores!
Now gather your ingredients. You'll need marshmallows, your chocolate bar of choice and the graham crackers. If you can't possibly wait another minute, go ahead and use your favorite packaged marshmallows. However, if you have the time and want to have your hair completely blown back by these s'mores, then make these homemade marshmallows featuring Vital Proteins gelatin, honey and pure maple syrup. They're a game-changer.
Just add a campfire and a warm summer night under the stars with friends and you're set. Who could ask for anything "s'more"?
Okay, maybe a dollop of your favorite nut butter or a few fresh raspberries…the possibilities are endless.
Or just kick back and enjoy them straight up with your sticky fingers and chocolate smeared face just like the old days.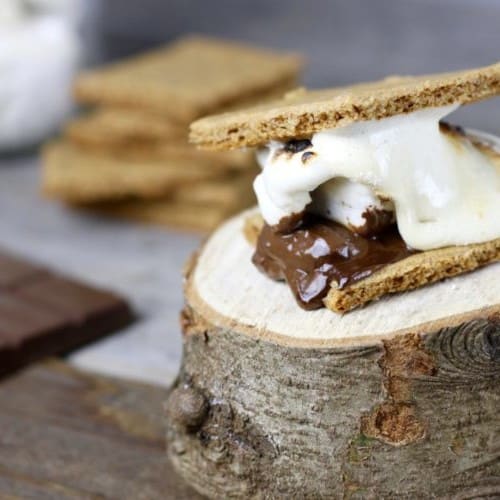 Recipe
Grain-free S'mores
Your childhood campfire favorite is back – now dairy-free and grain-free and better than ever thanks to real food ingredients you can pronounce.
Prep:
15 mins
Cook:
10 mins
Total:
25 mins
Servings:
20

-

24

crackers

1

x
Ingredients
1 1/4 cup

finely-ground almond flour (such as Honeyville)

1/4 cup

arrowroot starch

3/4 tsp

Vital Proteins Gelatin

1/4 tsp

baking powder

1/4 tsp

baking soda

1/4 tsp

sea salt

1/4 tsp

ground cinnamon

3 Tbsp

honey

1/2 tsp

vanilla

2 tsp

almond milk

10

–

12

marshmallows (such as these Homemade Marshmallows)

10

–

12

squares of chocolate, milk or dark
Optional: Nut butter, fresh berries, toasted coconut flakes, etc.
Grain-free Graham Crackers
Preheat oven to 300ºF.
Place almond flour, arrowroot starch, gelatin, baking powder, baking soda, sea salt and cinnamon in the bowl of a food processor fitted with the blade.
Pulse just to combine.
In a small bowl, whisk together the hone, vanilla and almond milk.
Add to dry ingredients and process until mixture forms a ball.
Turn dough out onto a large sheet of parchment paper that will fit on your baking sheet without overhang.
Dust dough with arrowroot starch then shape dough into a log. Dust with additional starch and roll dough into a large rectangle about 1/8-inch thick.
Score dough into 2×2-inch squares using a knife or pizza cutter. Poke holes in each cracker using a toothpick, wooden skewer or the tines of a fork.
Transfer parchment paper and dough to baking sheet. Place baking sheet on the middle rack of the oven and bake for 8-10 minutes or until dough is slightly puffed and very lightly browned on the edges.
Turn off oven. Allow crackers to cook in the oven for 20-30 minutes with the oven door cracked open. Transfer baking pan to a wire rack to cool completely.
Break crackers along score lines when completely cooled. Store in a covered airtight container in the pantry for up to 2 weeks.
For crispier crackers, place crackers on baking sheet in the oven set to the lowest temperature for 10 minutes. Turn off heat and allow to cool (either in the oven or on the counter – depending on how soft your crackers are, humidity level in your home, etc.)
To make s'mores
Place a square of chocolate on a graham cracker. Add toasted marshmallow. Top with another cracker.
Last Step! Please leave a review and rating letting us know how you liked this recipe! This helps our business thrive so we can continue providing free recipes and high-quality content for you.
Notes
All photos and content are copyright protected. Please do not use our photos without prior written permission. If you wish to republish this recipe, please rewrite the recipe in your own unique words and link back to the source recipe here on The Real Food Dietitians. Thank you!
Dietary