Tacos, salads, burrito bowls, egg scrambles … the options are endless when it comes to how to serve this tender, perfectly seasoned slow cooker beef barbacoa. Whether it's Taco Tuesday, a busy weeknight, or you're craving a Mexican-inspired meal that's full of flavor and possibilities, this recipe is the one you've been looking for. Best of all, it takes just 10 ingredients to make this mouth-watering, copycat, Chipotle Barbacoa recipe in the slow cooker.
The busy weeknight dinner solution
This Slow Cooker Beef Barbacoa is the ultimate dinner solution because it's so simple to prepare and enjoy in a lot of different way. In less than 15 minutes you can have everything loaded into the slow cooker and cooking away. Then, 7-8 hours later, you'll have a big batch of the most tender and flavorful shredded beef. It's perfect for stuffing into tortillas and lettuce wraps or piling atop a bed of cauliflower rice, salad greens, or grain bowls. This recipe makes a big batch so you'll have plenty of leftovers for an easy reheat-and-eat meal later just like our other slow cooker meals. This is a perfect solution for when you just can't wrap your brain around cooking dinner.
Ingredients to make this slow cooker barbacoa Recipe
All you need is a slow cooker, 10 ingredients, and 15 minutes of prep time to make this copycat Chipotle Barbacoa recipe that is sure to please.
Boneless beef chuck roast – we love chuck roast for this recipe because it results in incredibly tender and delicious shredded Barbacoa meat
Yellow onion
Garlic cloves
Tomato paste
Lime juice
Seasonings and spices – you'll need ground cumin, dried oregano, ground cloves, ground chipotle pepper, bay leaves, fine salt, and black pepper. Save big and stock-up on spices and seasonings at Thrive Market!
Ingredients list with exact measurements can be found in the recipe card below.
How to make Slow Cooker Beef Barbacoa
It takes just three simple steps to make this recipe. Bonus: The slow cooker does the majority of the work!
Make the sauce: Using a food processor or blender, combine the onion, garlic, tomato paste, and seasonings (minus the bay leaves) and give it a whirl until smooth.
Add the ingredients to the slow cooker: Once the sauce is made, add the beef cubes to the slow cooker, pour the sauce over the beef, and stir to combine. Add the bay leaves, cover the slow cooker, and set the timer.
Let it cook: When the meat is tender, remove the beef and shred it with two forks, then return the shredded barbacoa to the slow cooker and stir into the saucy liquid. As always, taste and add additional salt and pepper, if needed.
For the complete directions, ingredient amounts, and nutrition analysis that lists calories, protein, carbohydrates, fiber, sugar, and sodium per serving, scroll down to the recipe card below.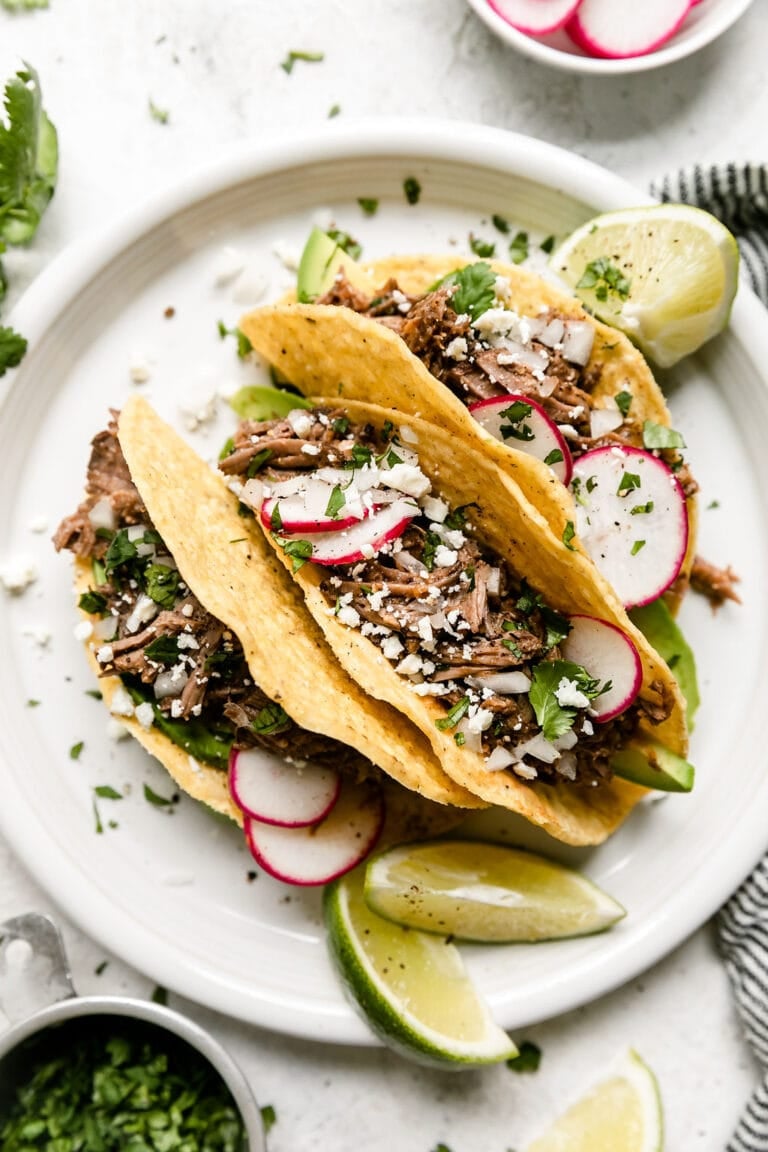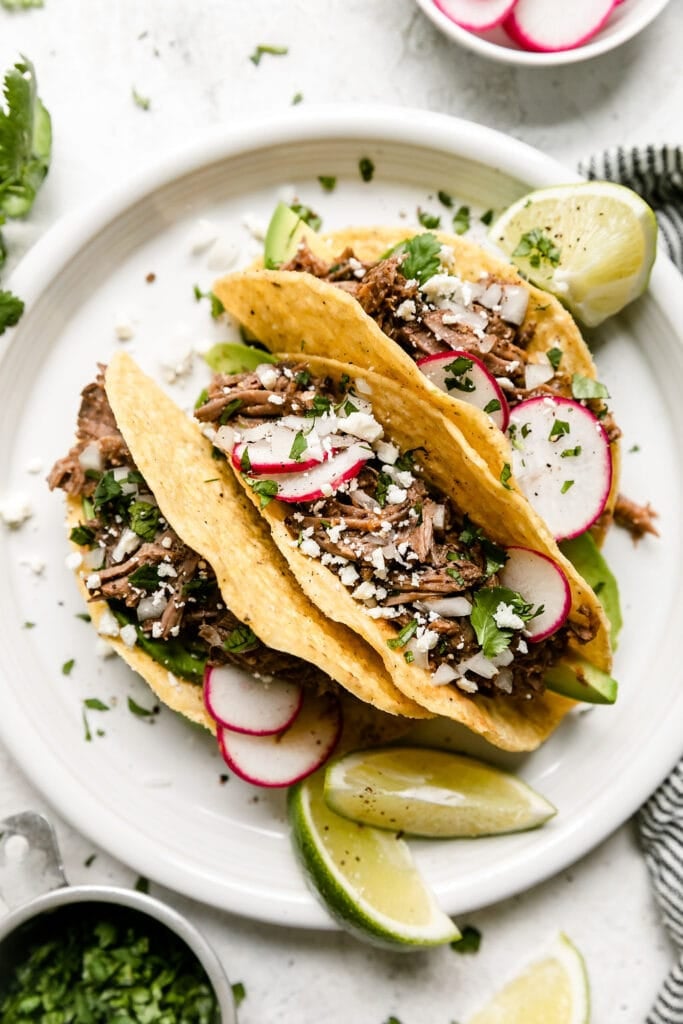 Barbacoa Recipe: Frequently Asked Questions
Here are some FAQs about this delicious barbacoa recipe:
What is Barbacoa? Barbacoa is the Spanish word for Barbecue. This method for cooking saucy, shredded meat slowly over low heat originated in Mexico. Traditionally, barbacoa is made from goat or lamb that's slow roasted in a pit for several hours. Modern recipes are usually made with beef or pork and often use a slow cooker with a special sauce, spices, and seasonings to replicate that long-simmered flavor.
Can this recipe be made in the Instant Pot? It sure can. Lucky you, we also have a recipe for Instant Pot Barbacoa!
What is the best cut of beef for making barbacoa? We like to use chuck roast because it's a budget-friendly cut of beef that has nice marbling and is perfect for slow cooking. We find that using chuck roast results in tender, juicy, and flavorful barbacoa every time.
Perfect occasions to serve barbacoa Beef
So many occasions come to mind when we think of where to serve this crowd-pleasing, easy-to-make recipe.
Weeknight Dinner Winner – This recipe is so easy to put together which is why it makes for a perfect weeknight meal. Toss everything in the slow cooker in the morning and dinner will be waiting for you when you get home from work. Keep it simple and serve taco-style with a few of your favorite fixings
Game-Day Grub – Whether you serve this barbacoa as tacos or bowls, it's the perfect build-your-own food to enjoy while watching your favorite team. Hey, and even if you're not all that into the game, at least you'll know you can still enjoy the food
Build-Your-Own Taco Night – Invite friends over, set out a variety of taco and bowl fixings to serve with the Barbacoa, make a batch of margaritas, and enjoy a chill night with delicious food and your favorite people. Even if your friends have different dietary needs, everyone can make a serving that works for them
Any Party or Gathering – Since this recipe for Slow Cooker Barbacoa makes a nice big batch, it's great for parties. Set out the cooked shredded barbacoa along with all the fixings and watch everyone flock toward the food table
.
Pin now to make later
The photos in this blog post were taken by Rachel Cook of Half Acre House.
For ultimate success, we highly recommend reading the tips in the full blog post above. All photos and content are copyright protected. Please do not use our photos without prior written permission. If you wish to republish a recipe, please rewrite the recipe in your own unique words. Link back to the source recipe here on The Real Food Dietitians. Thank you!