Delicious layers made up of a pecan almond crust, low-sugar pumpkin pie filling and topped with a coconut butter drizzle, toasted pecans and a dusting of pumpkin pie spice – these Paleo Pumpkin Pie Bars are the real deal!
An oldie but a goodie.
I created this recipe a few years back for a cooking class that I was teaching out of my home – before this blog was a thing. I'm not sure why I've waited until now to share this scrumptious, pumpkin spicy recipe, but my friends, today is the day! These Paleo Pumpkin Pie Bars, according to my husband Shane, "actually taste like pumpkin pie!" I translate that to "these are really good!"
The flavors of fall in this perfect little pumpkin treat.
Fall cooking and baking is my favorite! Not only are the foods and flavors of fall are comforting, warm, and hearty, simply, they just make me happy. And they'll make your friends and family happy too. Paleo Pumpkin Pie Bars are perfect whether you bring them to an upcoming fall gathering or holiday party or enjoy them within your home. A scrumptious three- or four-bite pumpkin pie square with only 5 grams of sugar per serving, you could have pumpkin pie for breakfast! 
Grain-free, gluten-free, dairy-free, refined sugar-free…but don't worry, these Paleo Pumpkin Pie Bars are full of delicious flavor!
My husband jokingly adds, "taste-free," after I list off everything the recipe is free of. If you know Shane, he likes to tease! So I always have to take his recipe critiquing with a big grain of salt and usually respond to his sarcastic comments with a classy eye roll and a "no seriously, what do you think?" P.S. If you're local to me, I'm hiring recipe testers! 😉 
In all seriousness, if you're looking for a "health-ified" pumpkin pie recipe with MUCH less sugar, these Paleo Pumpkin Pie Bars are for you!
The crust is made with a mix of almond flour, pecans, maple syrup, pumpkin pie spice, vanilla extract and held together with coconut oil. It's nice and thick and balances out the pumpkin pie layer ever so nicely. My mouth is watering as I type these words. The crust though!!
Delicious layers made up of a pecan almond crust, low-sugar pumpkin pie filling and topped with a coconut butter drizzle, toasted pecans and a dusting of pumpkin pie spice – these Paleo Pumpkin Pie Bars are the real deal!
Click To Tweet
Simply top the Paleo Pumpkin Pie Bars with a drizzle of melted coconut butter, chopped pecans and a dusting of pumpkin pie spice.
When I was re-testing this recipe last week, I attempted to make a coconut butter glaze that included maple syrup, pumpkin pie spice, and vanilla. However, I struggled with achieving the drizzly consistency that I was going for so I went back to my initial plan (much simpler) and drizzled the bars with straight-up melted coconut butter. Coconut butter has a naturally sweet flavor and a little goes a long way. It's perfect for adding just a little something on top of paleo, dairy-free or vegan-friendly treats and baked goods. Also, tasty on top of a sweet potato with a little cinnamon.
What's the difference between coconut butter and coconut oil? 
Coconut oil is simply the oil that's been extracted from the coconut meat, while coconut butter includes the coconut meat and is ground into a paste. If a recipe calls for one or the other, you want to stick to what the recipe calls for.
OK, it's time to fill your home with a mouth-watering pumpkin pie aroma and give these bars a try!
If you're using a can of pumpkin puree, you will have a little leftover. With those leftovers, I recommend you make our Chocolate Covered Pumpkin Pie Truffles….I made them yesterday and they are to die for!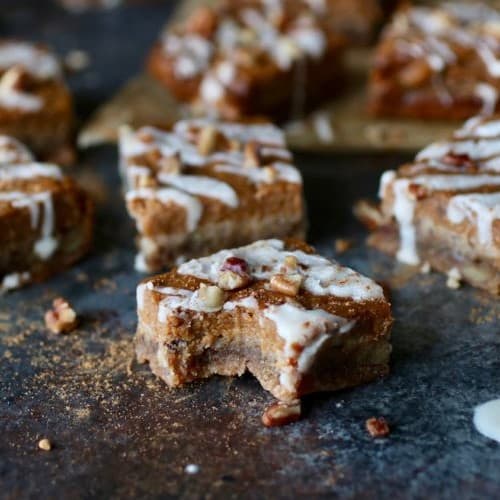 Recipe
Paleo Pumpkin Pie Bars
Dairy-free, paleo-friendly and tastes just like pumpkin pie! Drizzle with a coconut butter glaze and top with chopped pecans for the ultimate pumpkin indulgence. 
Prep:
15 min
Cook:
35 min
Total:
50 min
Ingredients
For the Crust:
For the filling:
Topping (optional):
Preheat oven to 350ºF.

In a small bowl, combine all of the crust ingredients. Mix until dough comes together.

For easy removal of bars, line a 9×9-inch pan with parchment so that the parchment falls over the edge of the pan. Evenly and firmly press the dough into the pan to form a crust. Bake in oven for 10 minutes.
Meanwhile, combine the pie filling ingredients in a medium bowl. Stir until smooth.
Once crust has finished baking, cool slightly. Then spread the pie filling evenly over the crust.
Return to oven and bake for 25-30 minutes until a toothpick inserted in the center of the pie comes out clean or center is firm to touch.
Remove bars from oven and allow to cool for 20 minutes or overnight is best.
For the topping: In a saucepan, over medium heat, melt the coconut butter until smooth and drizzly consistency.
Grab on to the edges of the parchment pager and carefully remove cooled bars carefully from pan. Drizzle with coconut butter and top with chopped pecans and a dusting of pumpkin pie spice.
Cut into 16 squares.
Last Step! Please leave a review and rating letting us know how you liked this recipe! This helps our business thrive so we can continue providing free recipes and high-quality content for you.
Notes
Store bars in an airtight container in the the refrigerator for up to 2 weeks.
Nutrition Information
Serving Size:

1/16 of recipe

Calories:

140

Fat:

11 g

Sodium:

90 g

Carbohydrate:

9 g

(Fiber:

2 g

Sugar:

5 g

)
Protein:

2 g
Dietary
Pin now, make later!
---
This post may contain affiliate links which won't change your price but will share some commission.
All photos and content are copyright protected. Please do not use our photos without prior written permission. If you wish to republish this recipe, please rewrite the recipe in your own unique words and link back to the source recipe here on The Real Food Dietitians.