These fresh Greek-style bowls are a healthy and delicious recipe that's easy enough for weeknights and fancy enough for dinner parties. The feature here is Greek Chicken Meatballs that get served over bowls of crisp lettuce greens, cooked rice or orzo, quick marinated veggies, and a delicious creamy drizzle of dairy-free Tzatziki sauce. You can make portions of the recipe ahead of time, if desired, or assemble it start to finish in less than 40 minutes. 
This post was created in partnership with Good Foods.
Recipe Highlights: New Recipes For Dinner
There is a lot to love about these fresh Greek-style bowls, including: 
A healthful mix of real-food ingredients – it's all-around good for you

Quick to make for

weeknight

dinners and

meal prep

lunches, and also beautiful and impressive for dinner parties

Convenient and quick to make with a store-bought plant-based Tzatziki style dip

A great balance of healthful protein,

carbohydrates

, and fats, as well as many other micronutrients and antioxidants

A recipe that's naturally

gluten free

and can be easily modified to be

dairy free
Mediterranean Bowls Featuring Greek Chicken Meatballs
The Mediterranean Diet, which includes so many fresh Greek foods, is consistently ranked one of the healthiest diets in the world. This style of eating emphasizes a lot of fresh produce, healthful fats (from foods like olives, olive oil, and avocados), and lean proteins. With all those qualities in mind, we created this recipes for fresh and bright Mediterranean Bowls that feature the most delicious and tender Greek Chicken Meatballs over a Greek salad made from fresh green, a quick marinated veggie relish, cooked rice, a convenient and healthy store-bought tzatziki sauce, plus lemon wedges and briny feta cheese. Not only are these Greek Bowls so good for you, but this recipe is also appealing to the eye (so many bright colors) and fun to eat, as well!
Ingredients to Make Greek Chicken Meatball Bowls
Here's what you'll need to make these fresh Mediterranean-style meatball bowls today:
Ground chicken – may also use ground lamb or ground beef, or use ground turkey to make turkey meatballs
Tzatziki sauce – these bowls come together quickly and are so delicious when made with Good Foods Tzatziki-style Dip. This creamy dip is 100% plant-based and made from a base of cauliflower, fresh herbs, and cucumber – you'll love the freshness it adds! Use this store locator to find Good Foods sold near you
Red onion – you'll use red onion in both the meatballs themselves and the finished bowls
Garlic cloves – may sub 1 teaspoon garlic powder
Lemon – you'll use lemon zest in the meatballs and also serve lemon wedges for squeezing fresh lemon juice over the bowls to add brightness and acidity
Cucumbers – we recommend Persian (or mini cucumbers), but you can also use hot house or English cucumbers
Tomatoes
Lettuce – we like romaine lettuce, but you can use any favorite greens
Rice – use cooked rice or orzo pasta; may sub cauliflower rice for grain-free or a low-carb version
Kalamata olives – these add a wonderful brininess and give these Greek bowls a more authentic taste
Feta cheese
Olive oil
Red wine vinegar
Fresh herbs – the fresh herbs in these bowls add wonderful flavor. You'll use fresh dill and fresh mint, or you can use the dried form of these herbs; may sub fresh parsley for the fresh mint
Seasonings – you'll need fine salt, black pepper, and dried oregano
For the complete directions and ingredient amounts, scroll down to the recipe card below. All of our recipes include the nutrition information, listing kcals, protein, carbohydrates, cholesterol, fiber, sugar, sodium, total fat, and more per serving.
How to Make Greek Chicken Meatballs With Tzatziki Sauce
Here are the quick steps to make these fresh Greek-style dinner bowls today:
Make the meatballs: In a large bowl, combine the ground chicken, minced red onion, 2 cloves garlic, lemon zest, dill, and oregano. Use your clean hands to stir and mix the ingredients right in the mixing bowl until well combined, and then form the meatball mixture into 16 rounds
Cook the meatballs: You can cook the chicken meatballs in an air fryer, on the stovetop in a skillet, or in the oven. Read below for our instructions for each of these quick methods. While the meatballs are cooking, move on to prep the bowl ingredients.
Mix the marinated veggies: Create a Greek salad of marinated veggies by combining the chopped cucumbers, tomatoes, onion, olives, and mint with the olive oil, red wine vinegar, salt, and pepper in a small bowl
Assemble the bowls: Into individual bowls, layer the chopped romaine lettuce, rice (or orzo or cauliflower rice), the marinated veggies, and the cooked meatballs. Top servings with a generous drizzle of tzatziki sauce (such as the Good Foods brand or make homemade tzatziki sauce from a base of Greek yogurt) and top with feta cheese and lemon wedges.
For the complete directions and ingredient amounts, scroll down to the recipe card below. All of our recipes include complete nutrition information, listing calories, protein, carbohydrates, fiber, sugar, sodium, cholesterol, and more per serving.
3 Ways To Cook Greek Chicken Meatballs
The meatballs in this recipe come together quickly, and you could even make them ahead of time for quick-assembly dinner bowls. When it comes to cooking the meatballs, you have several cooking methods you could use, and all of these result in tender, delicious meatballs: 
Air Fryer Meatballs:

Cook the meatballs in the basket of a 400-degree

air fryer

, working in batches, as needed. Air fry for 4 minutes, then turn over each meatball and air fry for an additional 3-4 minutes.
Skillet Meatballs: Heat some avocado oil in a large skillet and cook the meatballs for 5-7 minutes per side, then turn the meatballs over and cook for an additional 5-7 minutes. 
Baked Meatballs:

Arrange the meatballs on a sheet pan lined with

parchment paper

. Bake them in a 400-degree oven for 12-16 minutes. 
Always cook chicken meatball recipes until the meatballs have reached an internal temperature of 165°F when registered on a meat thermometer. See the recipe card below for complete directions on how to cook the meatballs in any of these methods.
Are Greek Bowls Good For You?
These Greek-style bowls are a healthy and nutrient-rich recipe for lunch or dinner. Here are some nutrition highlights:
Chicken Meatballs – made from lean ground chicken, these homemade meatballs are high in protein, naturally gluten free, and full of flavor from everyday seasonings
Marinated Veggies – chopped cucumber, tomatoes, red onion, kalamata olives, and fresh mint get tossed with heart-healthy olive oil, red wine vinegar, and fresh mint. This forms a type of Greek salad that adds a fresh pop of flavor to the bowls, as well as a great amount of potassium and vitamin C
Plant-Based Tzatziki Sauce – you get even more veggie goodness when you top these bowls with Good Foods Tzatziki Style Dip, which is made from a base of cauliflower, almonds, cashews, cucumber, lemon juice, garlic, and chia protein.
A Naturally Gluten Free Meatball Recipe
Unlike other chicken meatball recipes, this one doesn't call for any breadcrumbs, panko, or flour, so it is naturally gluten free.
Make It Dairy Free
It's easy to make these Greek Bowls dairy-free, if needed. Since we've used Good Foods Plant-Based Tzatziki Sauce, which is creamy and delicious and also 100% vegan, then the tzatziki is already dairy free. Additionally, you'll need to omit the feta cheese or use a plant-based feta cheese instead.
Make It Grain Free And Paleo Friendly
To make these Greek Meatballs Bowls grain free and Paleo friendly, use cauliflower rice instead of regular rice in the bowls. Also, opt for Good Foods Plant-Based Tzatziki sauce, and omit the feta cheese.
Frequently Asked Questions
What are the main ingredients in Greek Chicken Meatballs?
The ingredients in the Greek Chicken Meatball recipe are ground chicken, minced onion (may sub onion powder), garlic (may sub garlic powder), lemon zest, dill, oregano, salt, and black pepper.
Is this recipe good for meal prep?
Yes, this recipe can be partially prepped ahead of time for a dinner that comes together super quick. For make-ahead components, we suggest that you form and cook the meatballs up to 2 days in advance. Store them in an airtight container in the refrigerator and then reheat them in the oven or in a skillet on the stovetop. You can also cook the rice up to 2 days ahead of time and prep the marinated veggies up to 4 hours in advance.
How should I serve the chicken meatballs?
Our favorite way to serve these Greek chicken meatballs is bowl style, as we've shown here. We think they taste so fresh and pair beautifully with the marinated veggies and crispy romaine lettuce, while also providing well-rounded nutrition (healthy carbs, protein, and fats). You could also serve the meatballs as an appetizer along with the Good Foods Tzatziki Sauce and some veggies (such as red pepper strips and snap peas) for dipping. These meatballs would also be delicious served with hummus and pita bread wedges.
Can the meatballs be cooked in an air fryer?
Yes, you can quickly cook the Greek chicken meatball recipe in an air fryer. See the recipe card below for the air fryer temperature and cook time.
How should I store leftovers?
Store any leftover meatballs in an airtight container in the refrigerator for up to 4 days. Store any remaining marinated vegetables in a covered container in the fridge and store other bowl ingredients (lettuce, cooked rice, feta) in separate containers, too.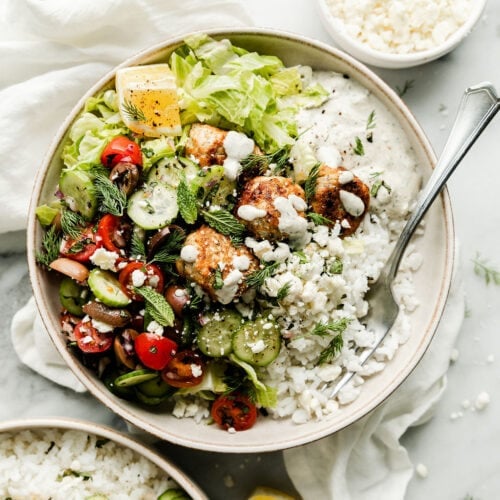 Recipe
Greek Chicken Meatballs in Greek Bowls
These fresh dinner bowls feature Greek Chicken Meatballs atop a bed of fresh greens, quick marinated veggies, cooked rice, and herby tzatziki sauce. All those terrific Greek flavors together in one filling and nutritious dinner bowl!
Prep:
20 mins
Cook:
20 mins
Total:
40 mins
Ingredients
For the Meatballs:
1

lb.

ground chicken (may sub ground lamb, turkey, or beef)

3 tablespoons

minced

red onion

2

garlic cloves, finely minced

2 teaspoons

lemon zest

1 tablespoon

fresh dill

(or

¾ teaspoon

dried dill)

½ teaspoon

dried oregano

½ teaspoon

fine salt

¼ teaspoon

black pepper
For the Bowls:
1 cup

thinly sliced Persian (mini) cucumbers

1 cup

grape tomatoes, halved (~6 ounces)

¼ cup

diced

red onion

⅓ cup

pitted

kalamata olives

, sliced 

1 ½ tablespoons

chopped

fresh mint

2 teaspoons

extra-virgin

olive oil

2 teaspoons

red wine vinegar

¼ teaspoon

fine salt plus more to taste

Pinch of

black pepper

4

heaping handfuls chopped romaine lettuce

3 cups

cooked rice (may sub cooked orzo or cauliflower rice)

⅓ cup

crumbled

feta cheese

½ cup

Good Foods

Tzatziki Dip

*

1

medium lemon, cut into wedges
In a medium bowl combine the

ground chicken

,

red onion

, garlic,

lemon zest

, dill,

oregano

,

salt and pepper

. Stir well to combine (or use your hands to combine). 

Divide the mixture into 16 equal portions. Roll each portion into a ball with damp hands. Proceed with the meatball cooking method of choice below (

air fryer

, skillet, or oven).

While the meatballs are cooking, assemble the bowls. To a medium bowl, add the cucumbers, tomatoes, onion, olives, and mint. To the same bowl, add the

olive oil

, red wine vinegar, salt, and pepper. Stir to combine then taste, adding more

salt and pepper

as needed.

To each of 4 serving bowls, place a large handful of lettuce, ¾ cup cooked rice, ⅓ cup of the tomato-cucumber mixture, and 4 cooked meatballs to each bowl. Sprinkle with feta cheese and top off each bowl with 2 tablespoons of Tzatziki sauce. Garnish with lemon wedges and serve.
To Cook The Meatballs: You can cook the meatballs in several ways, using any of the methods below.

Air Fryer Directions:
Preheat

the

air fryer

to 400°F. Place the meatballs in the

air fryer

basket, spacing them out so they don't touch (you may need to work in batches). 

Air fry the meatballs until cooked through, 7-8 minutes, and until they register 165°F on an instant-read thermometer. Turning meatballs halfway through

cooking time

for even browning. 
Skillet Directions:
Place a large skillet over medium heat, add 2 teaspoons of oil and swirl to coat the bottom of the skillet. 

Add the chicken meatballs and cook for 5-7 minutes on one side. Turn the meatballs over and cook for an additional 5-7 minutes and until they reach an

internal temperature

reaches 165°F.
Oven Directions: 
Preheat

the oven to 400°F.

Place meatballs in an even layer on a parchment-lined baking sheet. Bake for 12-16 minutes and until they register 165°F on an instant-read thermometer.
Last Step! Please leave a review and rating letting us know how you liked this recipe! This helps our business thrive so we can continue providing free recipes and high-quality content for you.
Notes
* We love this store-bought Tzatziki Style Dip from Good Foods because it's made with 100% real-food ingredients. It's a plant-based and gluten-free dip made from a base of cauliflower, almonds, cashews, cucumbers, and fresh herbs (and it's so full of great fresh dill flavor)! Find it in the refrigerated case at stores near you with this store locator.
Nutrition Information
Serving Size:

1 bowl (1 cup greens, 3/4 cup rice, 4 meatballs, 1/4 of the veggies, 1 1/2 tbsp feta, and 2 tbsp Tzatziki)

Calories:

404

Fat:

13 g

(Sat Fat:

3 g

)
Sodium:

956 mg

Carbohydrate:

37 g

(Fiber:

5 g

Sugar:

4 g

)
Protein:

32 g

Cholesterol:

86 mg
Dietary
Pin Now to Make Later!
This post was made possible by Good Foods. Although we received compensation for this post, the opinions expressed here are – as always – 100% our own. Thank you for supporting the great companies we work with thereby allowing us to continue creating great recipes and content for you.
For ultimate success, we highly recommend reading the tips in the full blog post above. All photos and content are copyright protected. Please do not use our photos without prior written permission. If you wish to republish a recipe, please rewrite the recipe in your own unique words. Link back to the source recipe here on The Real Food Dietitians. Thank you!