Having a make-ahead meal or two in your freezer is just the assurance you need to help you through life's hectic seasons. We know meal-time stress all too well, which is why we created this freezer meal guide just for you. It includes everything you need to stock your freezer with healthy meal options plus healthy freezer snacks. This guide includes 10 main dish and snack recipes, a complete grocery list, and meal prep and reheating tips you need to get it all done.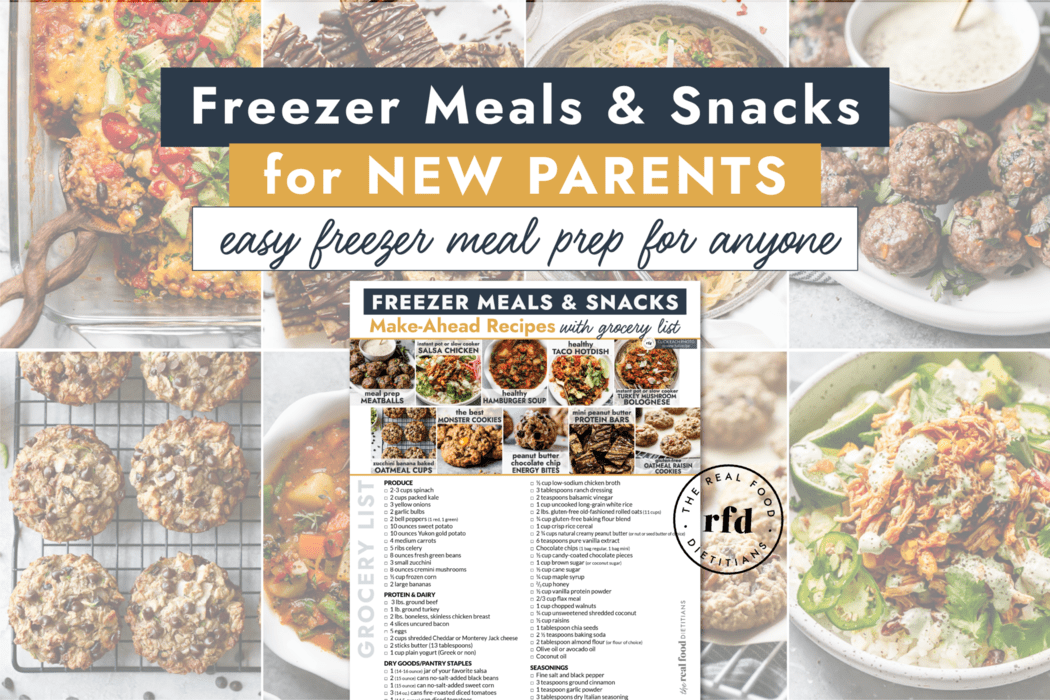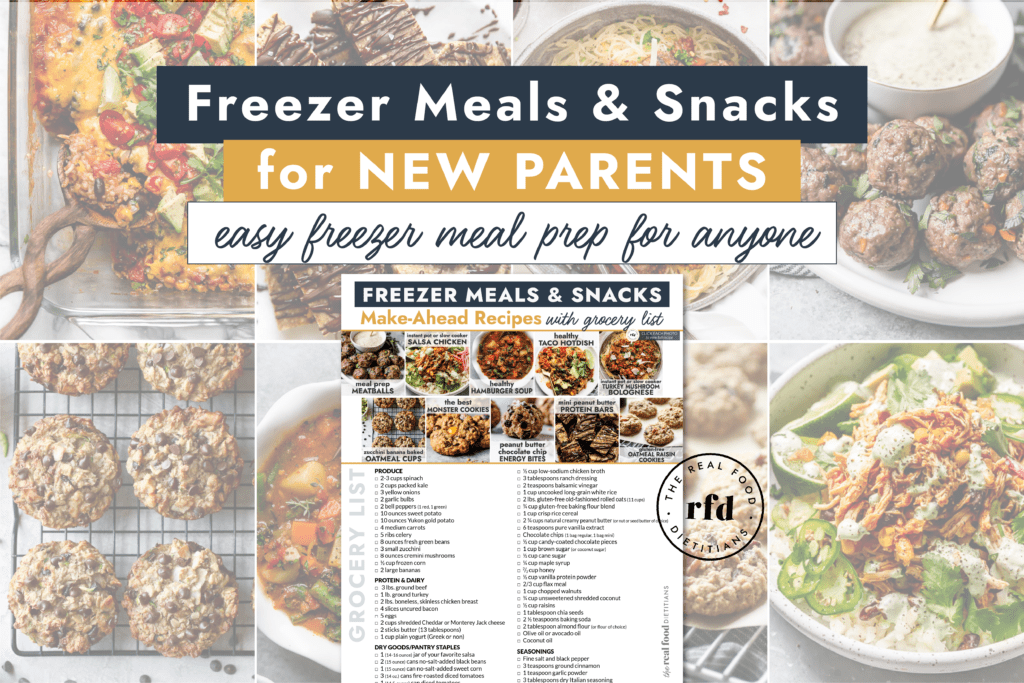 Freezer Meal Prep for New Parents or Anyone
Before the birth of her second child, Stacie knew she would need some freezer meals to fuel her through those hard first months. She did the legwork (making ahead all of the recipes and snacks you see here) and posted her freezer meal prep on our Instagram page. At that time, she asked if a guide for make-ahead freezer meals was something you might be interested in. To that, we had an overwhelming response. More than 97% of you said that a resource like this was something you needed, too! So here it is: Your free guide to freezer-friendly meals and snacks for new moms, busy families, and anyone who needs some ready-to-go meals for those hectic seasons and overloaded schedules.
Perfect Freezer Meals and Snacks
We carefully selected recipes that would allow for a variety of meals without having an overwhelming grocery list. We also picked recipes with ingredients that would freeze, thaw, and reheat well. Finally, we selected recipes that provide nutrition and lasting energy, and recipes that are tried-and-true favorites.
You can make these recipes using basic kitchen equipment: skillets, pans, spatulas, bowls. Some of the recipes call for an Instant Pot, which helps cut down on cooking time. If you've considered getting an Instant Pot, you'll love how it can make meal prep easier. Here's our favorite Instant Pot. You can also use a slow cooker instead of an Instant Pot, just account for the extra cooking time.
The Nutrition New Moms Need
These freezer recipes are healthful choices for anyone, but they're especially designed with nutrition for new moms in mind. Some of the ingredient highlights are:
Oats: Many of these recipes include oats, which can increase breastmilk supply while also providing iron (to produce energy) and magnesium (for a calming effect).
Veggies: These recipes include a lot of nutritious vegetables. They provide the vitamins, minerals, and antioxidants that can help new moms feel better, as well as fiber to help with constipation, a common side effect of giving birth.
Healthy Fats: You'll find ingredients like peanut butter, lean ground beef, avocado, eggs, and nuts in these recipes. The healthy fats in these ingredients to help give mom that extra energy and brain power she needs for those low-sleep nights.
Easy Snacks: If there's one thing a new mom needs, it is food she can eat with one hand. These snack recipes can be enjoyed right out of the freezer, even with a baby in her arms.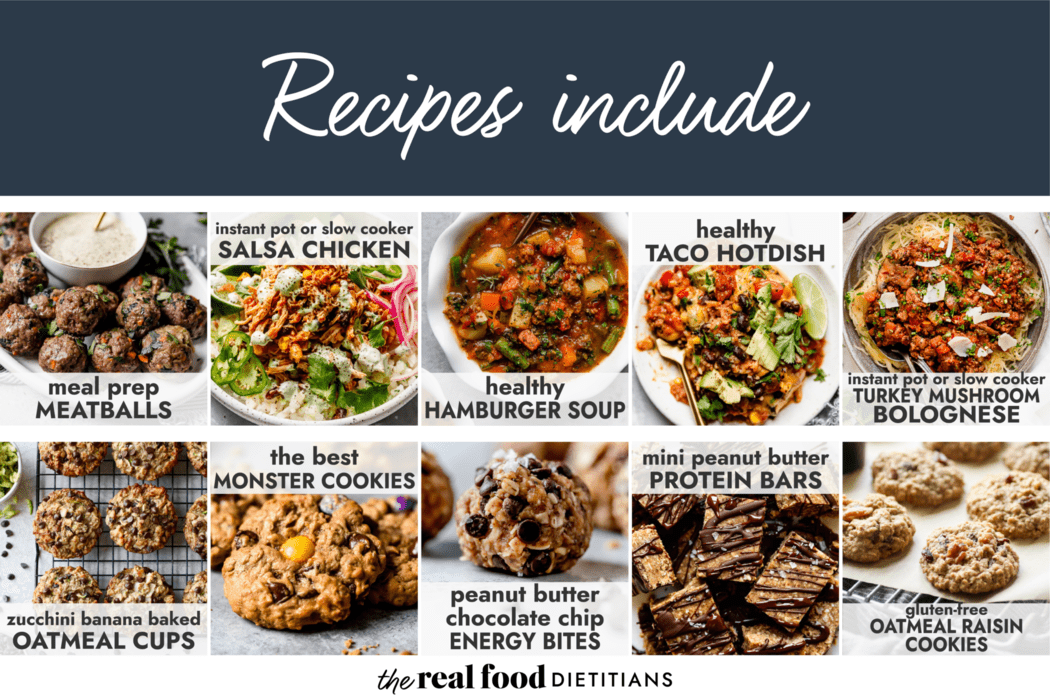 5 make-ahead Freezer Meals
We've selected five main dish recipes that freeze and reheat well. They are full of veggies and provide a variety of nutrients. Plus, we've received a ton of positive feedback from readers like you who have made them.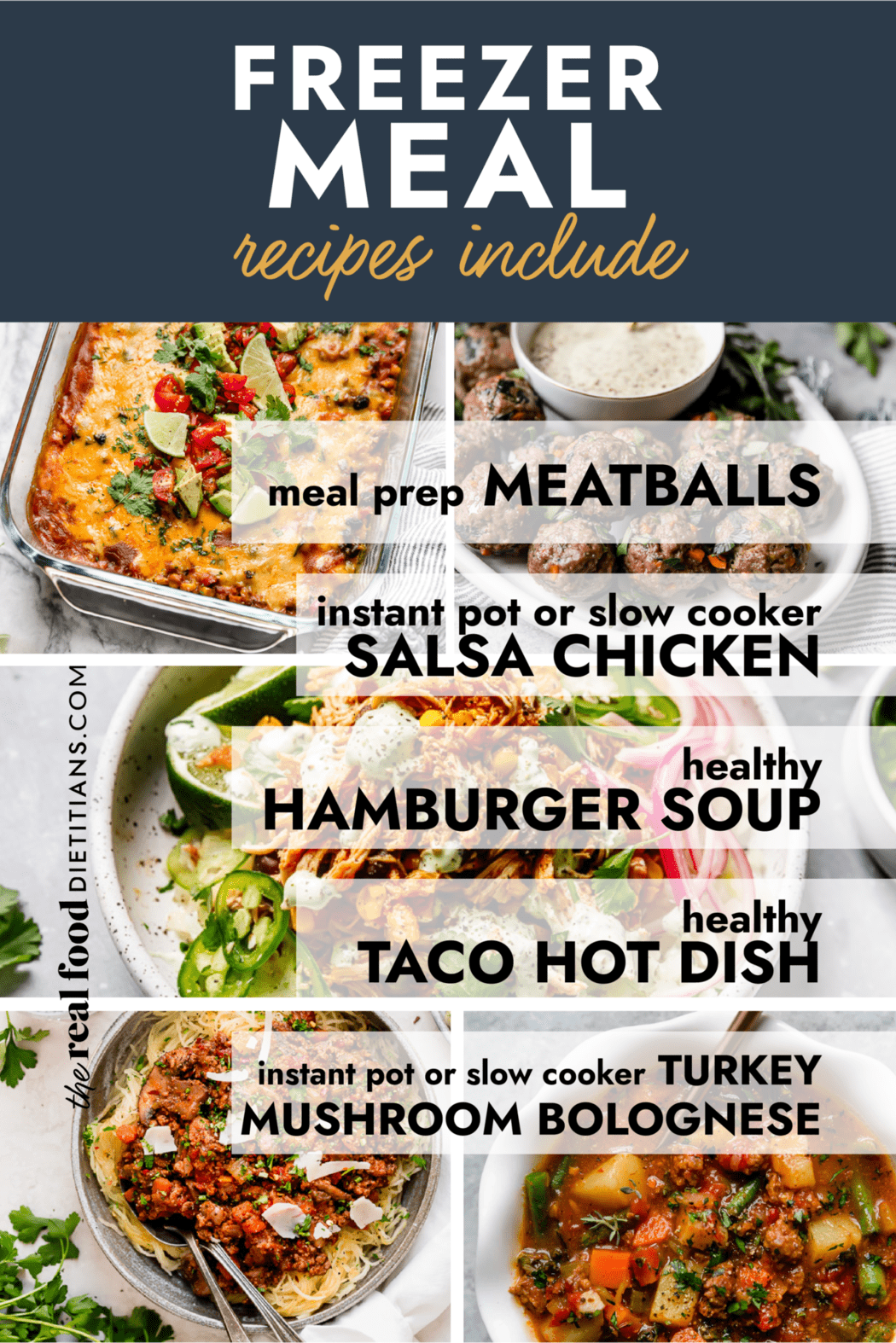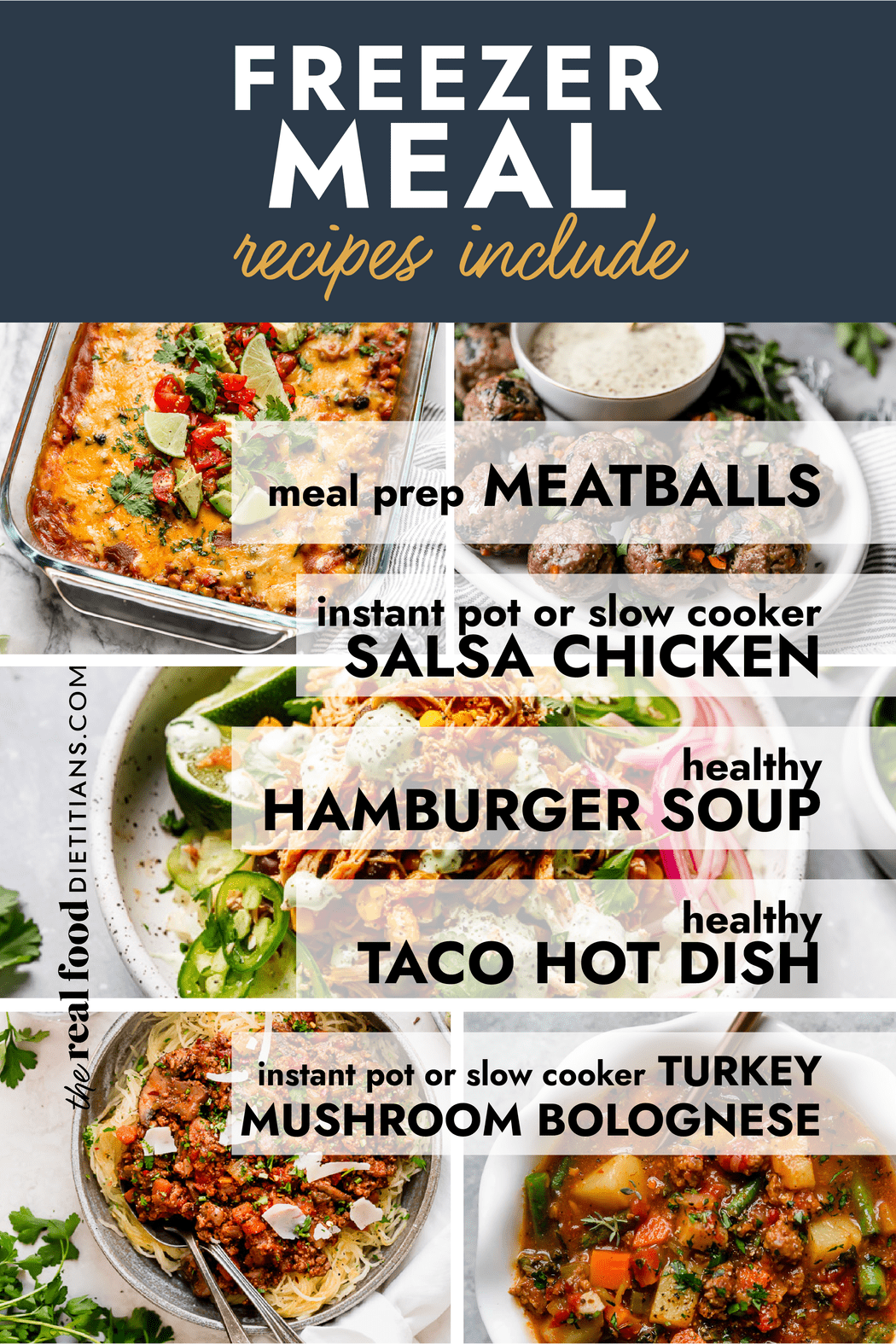 5 Make-Ahead Freezer Snacks
The snack recipes were chosen because they freeze and thaw well. They also provide lasting nutrition and are an enjoyable way to power through a breastfeeding session or afternoon energy lull. The freezer snacks in this guide are:
Tips for freezer meal Prep success
Here are some helpful tips so you can organize your meal prep session:
Divide & conquer: If you have the time, it is helpful to divide this meal prep session across two days. Do the grocery shopping and prep the snacks on day one. Prep the main-dish meals on day two.
Ask for help: When Stacie prepped these freezer meals and snacks, she enlisted the help of her mom. Working together, they were able to complete the prep of all 10 recipes in about 5 hours on one day.
Freezing big recipes: For recipes that make a large amount (more than you'd eat in one setting), divide it among two or three containers. That way you only need to thaw the portion that you'll eat at once. And you can avoid eating the same leftovers for several days in a row.
Containers: For recipes that you may partially thaw or fully reheat in the microwave, use glass containers. For recipes (like cookies, balls, and bars) that you wouldn't reheat in the container, storing in plastic containers is fine. We love these Zip Top silicone containers because they stand up on their own making them easy to fill, freeze, thaw, and reheat your favorite foods. >>Save 15% on all Zip Top products with code REALFOOD15
Double recipes: If you want to have even more food on hand, any of these recipes can be easily doubled. Stacie, for example wished she has doubled the meatball recipe, as those are an easy protein source that disappeared fast in her home.
Prepping order: Start by making the recipes that take the longest to prep and cook. For this prep, that would be the Healthy Hamburger Soup first and the Healthy Taco Hot Dish next.
Streamline: Use the same skillet for browning meat and sautéing veggies. There's no need to dirty a bunch of skillets for each separate recipe. Designate a helper to be the veggie chopper. That person will have the job of chopping, mincing, and slicing produce while another person starts on another task.
Manage waste: Keep a large bowl nearby for veggie scraps. This helps keep your prep area clean as you move through the recipes.
How to reheat freezer meals & Snacks
To reheat a made-ahead frozen meal, remove it from the freezer one day before you plan to eat it. Place the frozen contain in the refrigerator and allow it to safely thaw. To reheat the taco hot dish or meatballs, cover the pan with foil. Heat it in a 350 degree oven for 20 minutes or until heated throughout. Use a pot on the stovetop to reheat the shredded meats and soup.
Most of the snacks are designed to be enjoyed either straight from the freezer. Or, if you prefer a bar or cookie that is slightly warmed (sounds good, right?), then simply pop one in the microwave for a few seconds.
Tip: From within the PDF, click on each recipe image to be taken to that post.
All photos and content are copyright protected. Please do not use our photos without prior written permission. If you wish to republish this recipe, please rewrite the recipe in your own unique words and link back to the source recipe here on The Real Food Dietitians. Thank you!