It's time to get your prep on with Weekly Meal Prep Menu: No. 2 !
Hey there! Welcome to the Weekly Meal Prep series where each week we feature 2 entrees, 1 breakfast, 1 salad and 1 snack or treat (and sometimes, a bonus recipe). Our Weekly Meal Plan Menus are designed to serve 4 people – or fewer if you don't mind leftovers. This won't be enough to feed you or your family for the entire week but it's enough to put a good dent in the week. Feel free to add additional recipes or staple items like hard-boiled eggs, fresh fruit, cut veggies, tossed green salads, salad dressings and more as your time (and energy!) allows.
To get the recipes, just click the image or link to get the printable recipe. You'll find the grocery list after the recipes – just click the link below the photo to download and print.
Save time and eat better with Weekly Meal Prep Menu: No. 2 #realfood
Click To Tweet
Weekly Meal Prep Menu: No. 2
#mealprepseries
Slow Cooker Chicken Chile Verde – It really doesn't get any easier than this. With just 5 ingredients, 5 minutes of prep time and 5ish hours in the slow cooker you'll find yourself making this recipe again and again. Serve over cauliflower rice, with your favorite corn or grain-free tortillas or wrap it up with lettuce leaves then top with diced avocado for a fresh and easy lunch or dinner.
 Lemon Butter Seared Salmon from Fit Foodie Finds – Oh my, oh my! This salmon is so simple to prepare and it's a super versatile protein option – toss it on a salad, serve with cauliflower rice or roasted Brussels sprouts for hearty and healthy meal.
Caramelized Onion Butternut Squash Crustless Quiche from Physical Kitchness – Let's face it, no one LOVES waking up and having to make breakfast but almost everyone loves a breakfast. That's why we love this hearty crustless quiche chock full of protein from eggs and healthy, slow-burning carbs from butternut squash. It's perfect for making on the weekend when you have a little extra time then it's just reheat and eat from there. Serve it over a bed a greens with a drizzle of EVOO and balsamic for an easy meal that will keep you going for hours.
Roasted Brussels Sprouts with Bacon – The name pretty much says it all: Crispy, garlicky, lightly caramelized and made amazing with the addition of bacon. Serve with Lemon Butter Seared Salmon or other protein of choice. They're also great cold and tossed into a salad.
Cauliflower Rice (Bonus recipe!) If you've never made cauliflower rice before you'll be surprised at how simple it is. You just need a food processor fitted with a grating blade (or a box grater and some elbow grease) to transform that solid mass of lovely white cauliflower into fluffy rice-like bits that you can substitute for rice anytime you'd like a lower carb, more nutritious option.
Banana Chocolate Chip Mini Muffins – These are the perfect little sweet treat just about any time of day and you won't believe they're grain free and made without any added sweeteners! Feel free to substitute dried fruit or nuts for the chocolate chips if you'd like. Store them in the fridge in a covered container for up to 5 days or freeze for longer storage.
CLICK HERE to download the printable Grocery List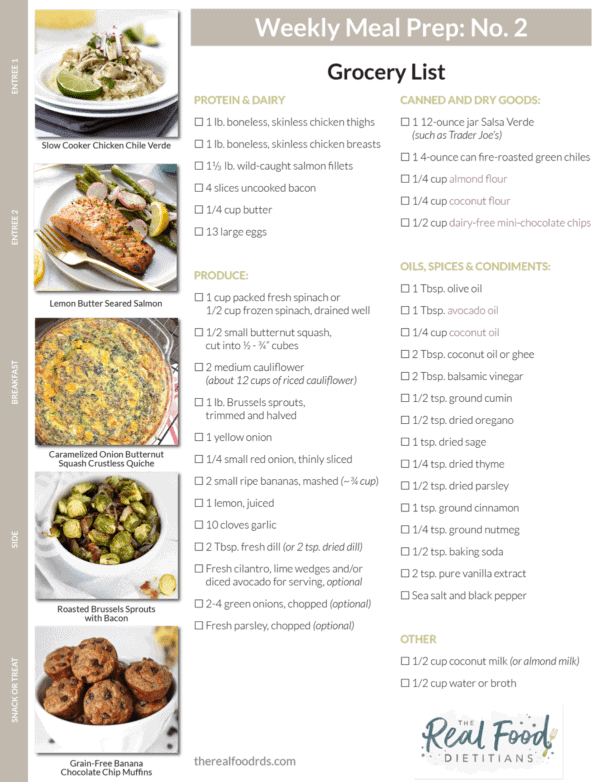 Tips for rocking this Meal Prep Menu
The Slow Cooker Chicken Chile Verde makes 8 servings. For a family of 4 – that would be enough for 2 meals. However, if you're feeding fewer people you can freeze any remaining portions in freezer-safe containers with lids so you have an easy reheat and eat meal for later on.
The grocery list is written for 4 servings of Lemon Butter Seared Salmon – so keep in mind that you'll need to double the recipe when preparing it (the recipe is written for 2 servings).
The Caramelized Onion Butternut Squash Crustless Quiche makes 8 smaller servings (or 4-6 larger servings). You can freeze the leftovers, however, they may be slightly watery when thawed so we recommend reheating them either in a toaster oven or in a covered skillet to cook off some of the excess moisture.
The Cauliflower Rice is an optional Bonus Recipe this week. You don't have to make it but it's great for serving the Chicken Chile Verde over and it makes a nice side dish for the salmon, too. Pro Tip:  Unused cauliflower rice (cooked or uncooked) can be frozen for later use. Just add to a skillet over medium heat with a little oil and stir fry until heated through.  You can also substitute a frozen or pre-made, uncooked cauliflower rice (found in the freezer and produce sections, respectively) if you don't have time or want to make your own.
How to properly freeze leftovers: Allow leftovers to cool slightly before refrigerating. Once the food is thoroughly chilled, portion into freezer-safe containers (like these) then label and freeze. Allow food to thaw in the fridge overnight before reheating.
Still not sure where to begin?! Check out our Top 10 Meal Prepping Tips here.
Looking for more Meal Prep Menus? Get them all HERE
We often carve out time for a mid-week meal prep to carry us though the weekend. The same 'rules' apply here – 5 recipes and 1-2 hours max in the kitchen. Even if you can't pull off a full prep, making just 2 recipes can go a long way toward saving your sanity in the second half of the week.
Don't forget to take some snaps of your meal prep!
Hashtag your meal prep photos #mealprepseries on Instagram so that we can see all of your delicious meal prep photos! 
Pin it for later!
---
This post may contain affiliate links which won't change your price but will share some commission.