If you're in need of a festive holiday treat but aren't quite sure what to make, we've got you covered with 20 of the best gluten free Christmas cookies and treats! From classic recipes to new creations, these options are perfect for holiday parties, bake sales, and cookie trays.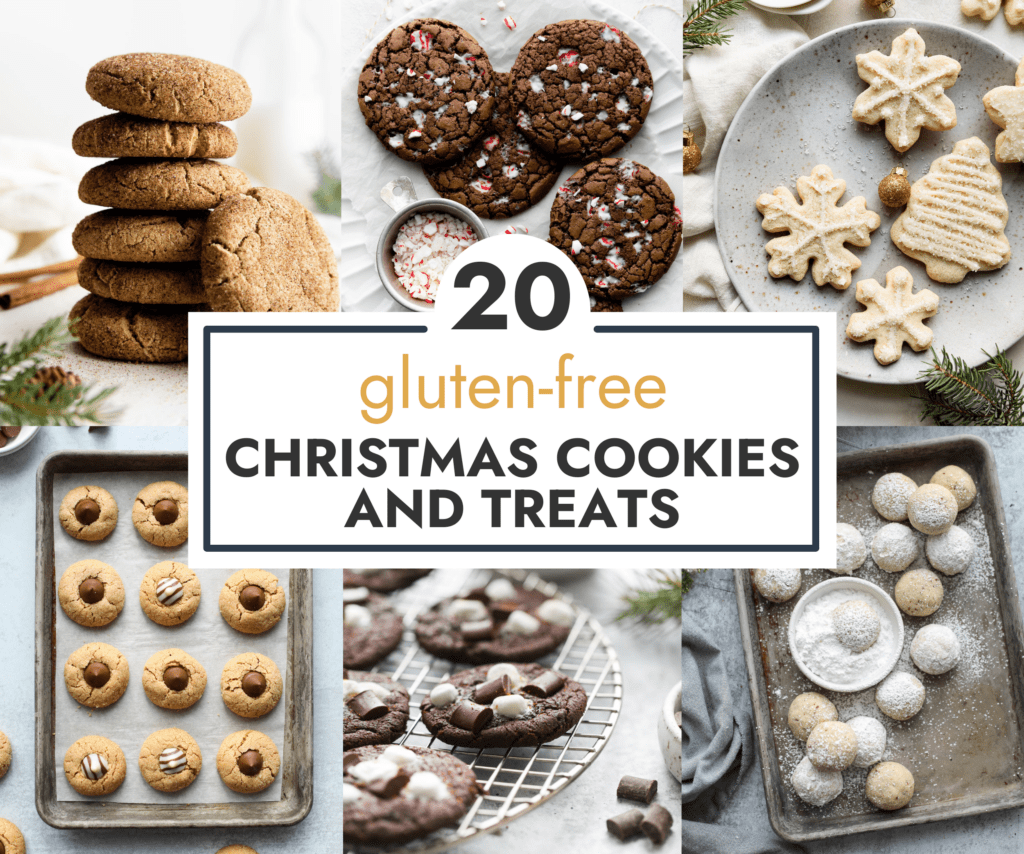 A Collection of 20 Gluten Free Christmas Cookies and Treats
Use this round-up of gluten free Christmas cookies to select what you want to make for your holiday tray or party. If you have someone in your home or circle who eats gluten free, we know they will appreciate your extra care by making gluten free Christmas cookies that they can enjoy. All of the recipes below are gluten free, and there are also options for Cookies that egg free and dairy free (or can be made so with modifications). We hope these cookies and treats help bring a little magic to the holidays with recipes everyone can enjoy.
Tips for Baking Gluten Free Christmas Cookie Recipes
While all of the recipes below are easy to follow, we have a few extra tips and tricks to make sure that all of your gluten free Christmas cookies and treats turn out perfectly every time you make them!
Preheat the oven. If your oven hasn't heated all the way up, your cookies and treats are likely to begin melting before they bake. This will result in gluten free Christmas cookies that are flat, crispy, and sometimes burnt.
Line the baking sheets. For even baking and easy cleanup, line baking sheets with silicone baking mats or parchment paper to prevent the treats from sticking.
Measure flour with a kitchen scale. When it comes to gluten free baking, accurate measurements are truly the key to success. For the best results, we recommend using a food scale (when grams are listed with the ingredients) to measure flour and other ingredients, instead of measuring cups to measure out your ingredients. Our recipes include the gram weight of flour and other ingredients, so this is easy to do.
Don't overmix the dough. Mix the cookie batter just until the ingredients are combined. If you mix the dough for too long, it can start to become crumbly or too dense.
Let the dough rest. Most of the recipes will specify when and how long to let the dough chill before baking. Most gluten free flours (except for coconut flour) tend to take longer to absorb moisture. So, as a general rule of thumb, plan on let the gluten free cookie dough chill at least 30 minutes before baking.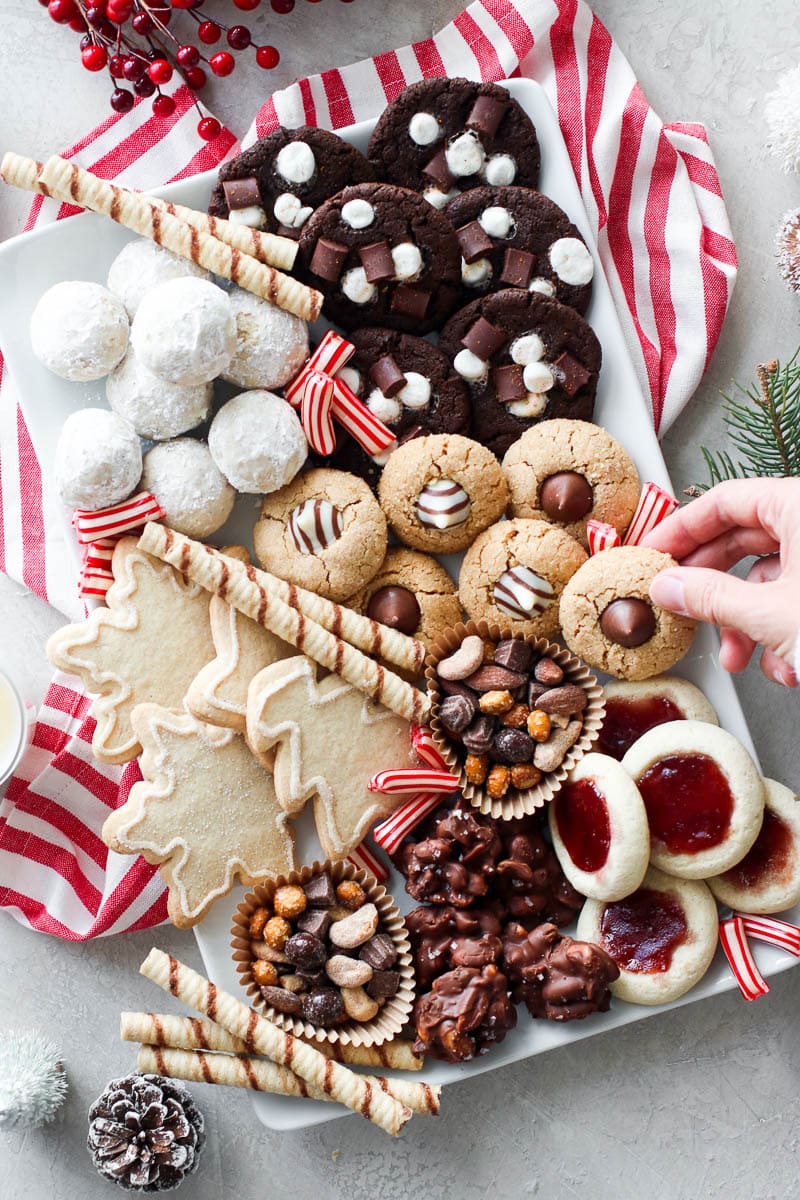 Gluten-Free Baking Staples to Have On Hand
Of course, gluten free Christmas cookie recipes will contain different ingredients. However, in general, there are a few items you can count on needing more often than not. For that reason, we keep our pantries and fridges stocked with the ingredients below!
1:1 Gluten Free Flour
Butter
Granulated Sugar
Brown Sugar
Peanut Butter
Pure Vanilla Extract
Baking Soda
Dairy-Free and Vegan Chocolate Chips – such as Enjoy Life
Our Favorite Flour for Gluten-Free Baking
When it comes to gluten free Christmas cookies and treats, our go-to flour is Bob's Red Mill Gluten Free 1-to-1 Baking Flour. It's made from a combination of sweet rice flour, whole grain brown rice flour, potato starch, whole grain sorghum flour, tapioca flour, and xanthan gum. We find that it bakes up nicely to create perfectly fluffy, tender cookies and treats with ease!
Frequently Asked Questions
Can I make these Christmas cookies gluten free? 
Yes, all of the cookies and treats included in this round-up are gluten free or come with a gluten free option. Now if you don't need these cookies to be gluten free, many of them can be made with all-purpose flour. 
Can I buy gluten free Christmas cookies? 
In our opinion, nothing beats homemade. However, if you're short on time, you can find gluten free Christmas cookies pre-made and ready to bake in the allergy-friendly section of most local grocery stores. 
Why are my gluten free Christmas cookie recipes dry and crumbly? 
The most common cause of crumbly cookies is an improper ratio of dry ingredients and liquids. To prevent this from happening, be sure to measure your items carefully! 
How do you keep gluten-free cookies from being gritty? 
Be sure to mix your batter just until the ingredients are combined and smooth, and let it rest in the fridge for about 30 minutes. This will help hydrate and soften the cookie batter, eliminating any gritty texture.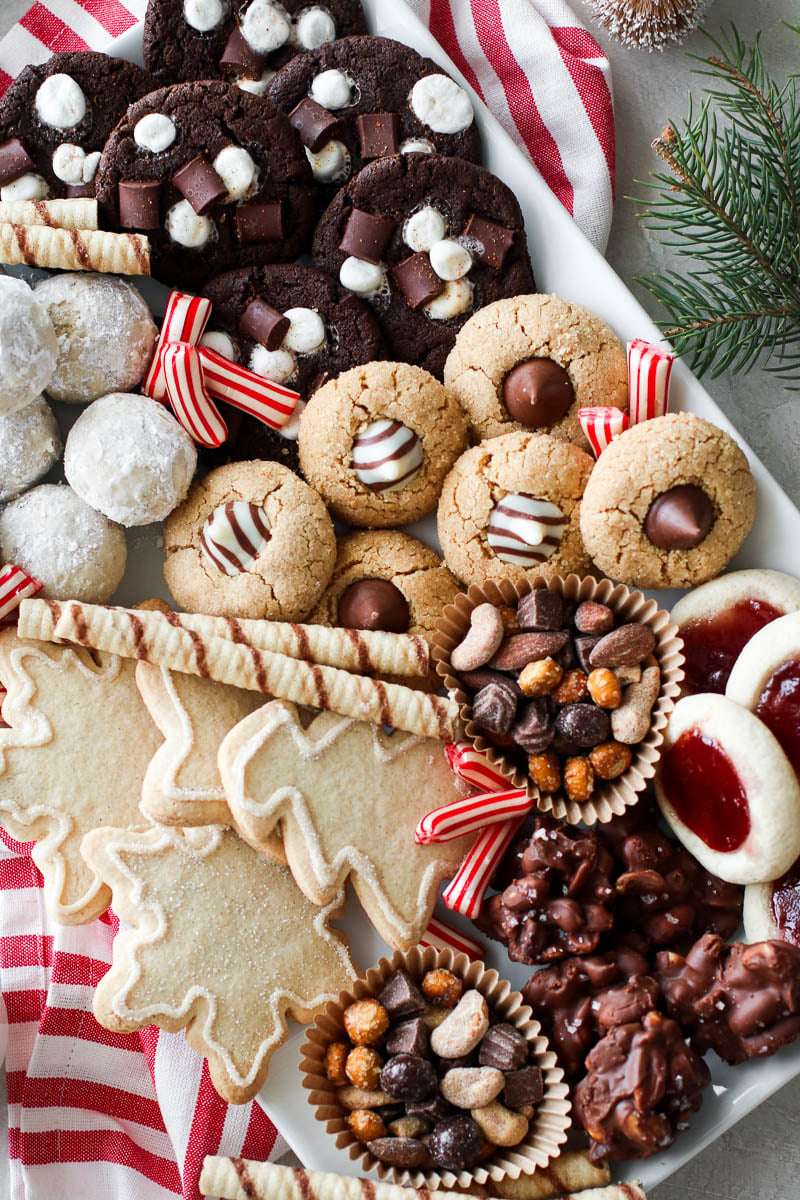 Make a Tray of Gluten Free Christmas Cookies or Give Them as Gifts
There are so many great ways to enjoy and share these gluten free cookies and treats! Two of our favorite options include: 
Make a Dessert Tray.

Make an assortment of goodies to arrange on a festive platter to leave out for Santa, serve at parties, and more. For the best results, start by arranging the largest items on the tray. Then, fill in any gaps with smaller options and extra garnishes like chocolate chips and candy canes!

Give Them as Food Gifts. We love to spread the holiday cheer with gifts you can eat made right in your kitchen. Choose recipes you know your loved ones will enjoy and can eat (being mindful of any food allergies), and place them in an airtight container lined with parchment paper. Attach a note providing the recipe and storage instructions so the recipient can view all of the ingredients, and wrap it up with a bow!
How to Store Gluten-Free Christmas Cookies and Treats
Gluten free Christmas cookies and treats are great to make ahead of time! We specify specific storage instructions in each recipe. However, in general, gluten free treats can be stored in an airtight container at room temperature for up to 3 days or in the freezer for up to 3 months.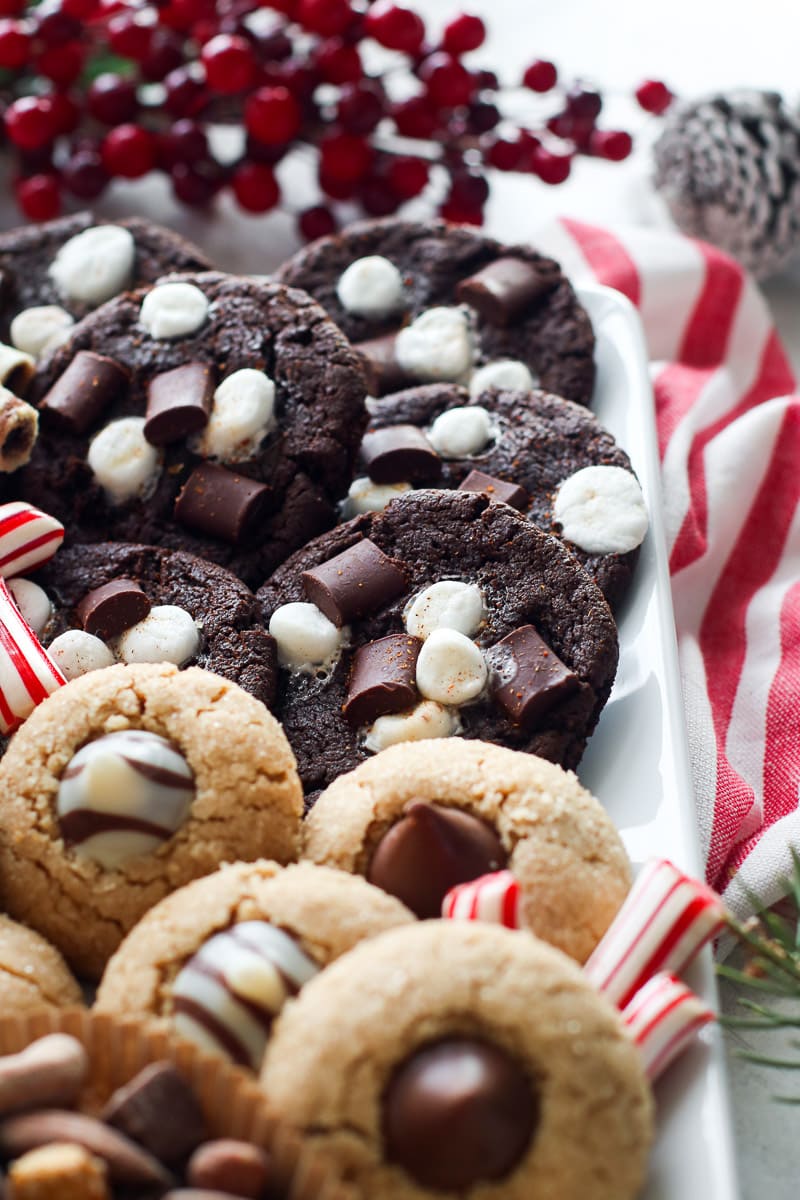 Pin Now to Make Later!
For ultimate success, we highly recommend reading the tips in the full blog post above. All photos and content are copyright protected. Please do not use our photos without prior written permission. If you wish to republish a recipe, please rewrite the recipe in your own unique words. Link back to the source recipe here on The Real Food Dietitians. Thank you!