This Blue Cheese Potato Salad with Chives made me late to my own wedding. No joke!

"Here comes the bride…trying to get her apron untied."
I catered my own wedding. I'm not sure if that's a testament to my love of cooking or the fact that we were so poor and couldn't afford to hire a caterer. I'm guessing it was a little of both. But before you go thinking I'm some kind of culinary superhero, there's more to the story. I had help from friends and family and Kentucky Fried Chicken. No kidding. More on that to come. 
I was nearly 15 minutes late to my own wedding because I was in the kitchen putting the final touches on the meal and hors d'oeuvres. My poor husband was said to be getting a little worried up there on the altar waiting for his bride-to-be to show up – though he blames that sweat on the sun and not nerves or worry. Poor guy, he learned that day that I'll always be the one lingering in the kitchen in pursuit of perfection when my food is going to take center stage.
Despite my late arrival to the aisle, the guests were having a grand time already. Someone had spotted the coolers of home-brewed beer under the gift table and pulled them out to fill the awkward space that happens when the bride hasn't yet arrived at her own wedding. Imagine my surprise when I finally did arrive to see a sea of friends and family pre-celebrating our nuptials with the fruits of our brewing labors. I still have people tell me that our wedding was one of the best they'd ever attended. Well, duh!
Not enough food for all of the guests? No problem.
Here's where things got really crazy. We'd had RSVP's from 65 guests so I planned for 85 meals. When more than 125 guests arrived I started to panic wondering how we were going to feed everyone. Thankfully, my husband's friend Mike who's been through thick and thin with him just knew that since Dean was involved, somehow there'd be more people at the wedding than we planned on. See, I'm married to one of those guys that everyone knows and loves. Kinda like Norm from the television series "Cheers" – but with the knack for totally random knowledge like his mug-raising pal, Cliff.
So here's where we get to the part about fried chicken and all the fixins. This forward-thinking, superhero of a friend just happened to own a handful of KFC restaurants and decided to order up enough catering for 75 people on his way to our big event. Just in case. You can only imagine my surprise (shock, horror, delight…not sure what I was feeling there) when there on the buffet table next to the wild Alaskan salmon brought to the lower 48 by my bridesmaids, the pulled pork from a locally-raised hog, salads, and tomatoes from my own garden, home-canned pickles, and beets from our larder and this blue cheese potato salad with chives was a whole heaping lot of fried chicken, potatoes, gravy, and biscuits. And I was a dietitian and this was my wedding, after all. Gasp.

Roll with it and laugh about it later
When faced with hungry wedding guests or my pride, I went with feeding the people. And you know what, it turned out smashingly. No one cared – heck, I'm not sure anyone but me and my mom and my aunt and a few others schlepping food from the tiny kitchen to the buffet table (read: large sheets of plywood set over sawhorses and draped with borrowed tablecloths) actually knew about this 'Plan B' approach to the wedding dinner. We still laugh about it today, 12 years later. And the fact that I was late for our wedding and the officiant swore during the ceremony, and we both cried through our vows, we forgot to light the unity candle, and it rained just a little during the "you may kiss the bride" part. It was all perfectly imperfect and the most important thing was that at the end of the day I was married to the man of my dreams – and no one went hungry.
So the moral of the story is this: Unless you're really good at rolling with it and embracing chaos, hiring a caterer for your wedding is probably a really good idea. 
Hungry for More? Subscribe to get our newsletter delivered straight to your inbox! And be sure to stay in touch on Facebook, Twitter, Pinterest and Instagram for all of the latest updates.
Let's Get Cookin'
Blue Cheese Potato Salad with Chives
This twist on the classic potato salad relies on sour cream for its creaminess rather than mayo and features the tang of blue cheese and bright flavors of fresh chives to bring it all together.
Author:
Prep Time: 15 mins
Cook Time: 15 mins
Total Time: 30 mins
Yield: 6 1x
Category: Side Dish
Cuisine: Gluten-Free, Egg-Free, Vegetarian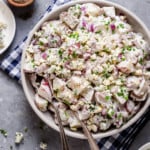 Ingredients
2 pounds red potatoes, cut into chunks
½ cup finely diced red onion
½ cup diced celery
¼ cup chopped fresh chives
¾ cup full-fat sour cream (we recommend Organic Valley)
2 Tbsp. whole milk
2 tsp. apple cider vinegar
½ tsp. fine salt
¼ tsp. black pepper
½ cup crumbled blue cheese (2 ounces)
Instructions
Place potatoes in a large saucepan. Cover potatoes with water, and bring to a boil.
Cook for 8-10 minutes or until tender. Drain and place potatoes in a large bowl.
Add onion, celery, and chives; toss gently to combine.
To make the dressing, combine sour cream and next 4 ingredients and whisk together to combine. Stir in blue cheese crumbles.
Pour dressing over potato mixture; toss gently to coat. Cover and chill until ready to serve.
Notes
l photos and content are copyright protected. Please do not use our photos without prior written permission. If you wish to republish this recipe, please rewrite the recipe in your own unique words and link back to the source recipe here on The Real Food Dietitians. Thank you!
Nutrition
Serving Size: 1/6th recipe
Calories: 235
Sugar: 4g
Sodium: 332mg
Fat: 8g
Carbohydrates: 33g
Fiber: 4g
Protein: 7g
What's your favorite food-related memory? Leave your story in the comments below.
Pin it now & Make it later
---
Photo Credit: The photos in this blog post were taken by Jess of Plays Well with Butter. 
This post may contain affiliate links which won't change your price but will share some commission.