Up level your snack game with these No-Bake Apricot Almond Coconut Energy Bars PLUS get our top tips for healthy snacking!
Today we're talking all about snacking and sharing an easy recipe for No-Bake Apricot Almond Coconut Energy Bars.
Snacks should be nourishing, they should be energizing and should be 'just enough' to give your blood sugar and metabolism a little boost to keep you going until your next meal.
No-Bake Apricot Almond Coconut Energy Bars are a perfectly packable and tasty snack.
They're quick to make, high in satisfying fiber & healthy fats, refined sugar-free, made with only wholesome ingredients and hold up nicely in the fridge for a week. They're also great for summer because no oven is needed therefore avoiding the possibility of any fights with the air conditioning. We love to enjoy them as an easy grab-and-go snack, pre or post-workout fuel, or toss them in a cooler or bag to enjoy as a 'pick-me-up' at the lake, the pool, the zoo, on a hike or whatever summer day activities we've got planned.
Before we get to the No-Bake Apricot Almond Coconut Energy Bars recipe, we want to share with you our Top 5 Healthy Snacking Tips.
These tips apply to both adults and children. They will help you snack healthfully and in a way that is mindful and won't spoil your dinner. We hear all too often from our health-conscious readers and clients that they do great with making healthy food choices during the morning hours and through lunch but then the 3-5 o'clock hours hit and the pre-dinner munchies, grazing and snacking begins. That's why we're here, to let you know that snacking CAN fit into a healthy lifestyle when done right and to share with you our very best snacking tips to keep you energized and satisfied in a nourishing way.
5 Healthy Snacking Tips:
Have predetermined options – choose 3-5 healthy snacks to enjoy throughout the week. Having limited options makes choosing a healthy snack easier. When you're feeling your tummy grumble mid-morning or when 3 o'clock rolls around and you're losing your steam, choose one of the predetermined healthy snacks to enjoy. Feel free to change up your options each week. This is also fun for kids when you involve them in planning of the snacks for the week! Example of healthy snacks include No-Bake Apricot Almond Coconut Energy Bars, one of our energy ball recipes, a homemade mix of dried fruit and nuts, raw veggies and hummus, apple slices spread with almond butter, a yogurt parfait made with fresh berries or a smoothie.
Prepare your snacks ahead – prepare as much as you can ahead of time so that choosing a healthy snack is easy. Prep and chop veggies, make homemade energy bars/bites or trail mix, wash fruit, pre-package snacks, assemble smoothie bags to keep on hand in the freezer, hard-boil eggs, etc. Spending an hour or two on the weekend prepping foods will help you make healthy snack choices all week long.
Keep it simple – there's no need to complicate things! Combine single ingredient foods to create a healthy and balanced snack. Similar to meals, include foods that combine two of the three-macronutrients which are carbohydrates such as fruits, vegetables and gluten-free grains, proteins such as hard boiled eggs and Greek yogurt, and fats such as nuts, seeds and avocados. Combining macronutrients makes for a satisfying and well-balanced snack. See snack examples listed in tip number 1.
Read the ingredients – if purchasing packaged snack foods, ALWAYS read the ingredients. Be on the lookout for added sugars, partially-hydrogenated oils, artificial sweeteners (like aspartame, acesulfame and Sucralose), food dyes, artificial flavorings and any ingredients that you can't pronounce. If you're uncertain of an ingredient, it's probably best to leave that product at the grocery store and look for something that you feel really good about. Remember, what you bring home is what you're going to eat and/or feed to your family. Choose wisely.
Timing – it's like your mother always said, "Don't spoil your dinner." And we agree! We recommend spacing out your meals and snacks so they're about 3-5 hours apart. This way you don't fill the tank too much just before a nourishing meal and your body has ample time to digest what you've already eaten. When you graze all day long and don't allow for adequate time between meals, your body is constantly in digest mode, which takes away from doing other necessary things like repairing and recovering from everyday wear and tear. In addition, it's not idea for optimal blood sugar management. Spacing meals and snacks apart every 3-5 hours will keep your digestive health and metabolism humming!
Happy snacking!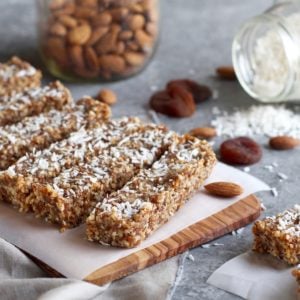 Recipe
No-Bake Apricot Almond Coconut Energy Bars
Up level your snack game with these vegan & paleo friendly, refined sugar-free, no-bake Apricot Almond Coconut Energy Bars. A perfectly packable and tasty snack.
Prep:
15 mins
Total:
15 mins
Ingredients
1 ½ cups

raw almond

1 cup

(

6 oz

. bag) dried apricots

2 Tbsp

. almond butter

1 Tbsp

. chia seeds

½ tsp

. pure vanilla extract

½ tsp

. cinnamon

¼ tsp

. nutmeg
pinch of sea salt

1

–

2

Tbsp. water (if needed – add

1 tbsp

. at a time)
For a citrus twist, add ½ tsp. orange zest and juice from ½ an orange
Line a 9 x 5 inch loaf pan with parchment paper or plastic wrap. Combine all of the ingredients in a food processor except for the water. Process on low speed for several minutes stopping to scrape the sides of the bowl as needed.
Ingredients will start to come together after a few minutes. If you feel the dough is too dry add 1 Tbsp. of water at a time and continue to process until ingredients start to stick together (see photo above for visual examples).
Transfer the dough to the loaf pan and press down firmly into the bottom of the pan. Top with coconut shreds (pressing them lightly into the surface) then place the bars in the fridge for 30 minutes or freezer for 10 minutes.
After chilled, remove bars from pan. Cut into 8 bars or squares.
Store bars in refrigerator.
Make bites instead of bars: Instead of pressing dough into a loaf pan, roll the dough into round bites instead. Then roll in coconut shreds.
Last Step! Please leave a review and rating letting us know how you liked this recipe! This helps our business thrive so we can continue providing free recipes and high-quality content for you.
Nutrition Information
Serving Size:

1/8 of recipe

Calories:

227

Fat:

16g

Sodium:

50 mg

Carbohydrate:

17g

(Fiber:

5g

Sugar:

8g

)
Protein:

7g
Dietary
We'd love to hear – what are your top healthy snacking tips?
Pin now, make later!

This post was made possible by our friends at Made in Nature. Though we received compensation for this post, the opinions expressed here are – as always -100% our own. Thank you for supporting the great companies we work with thereby allowing us to continue creating great recipes and content for you.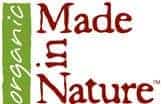 This post may contain affiliate links which won't change your price but will share some commission.