There's a new superfood in town and it's centuries old.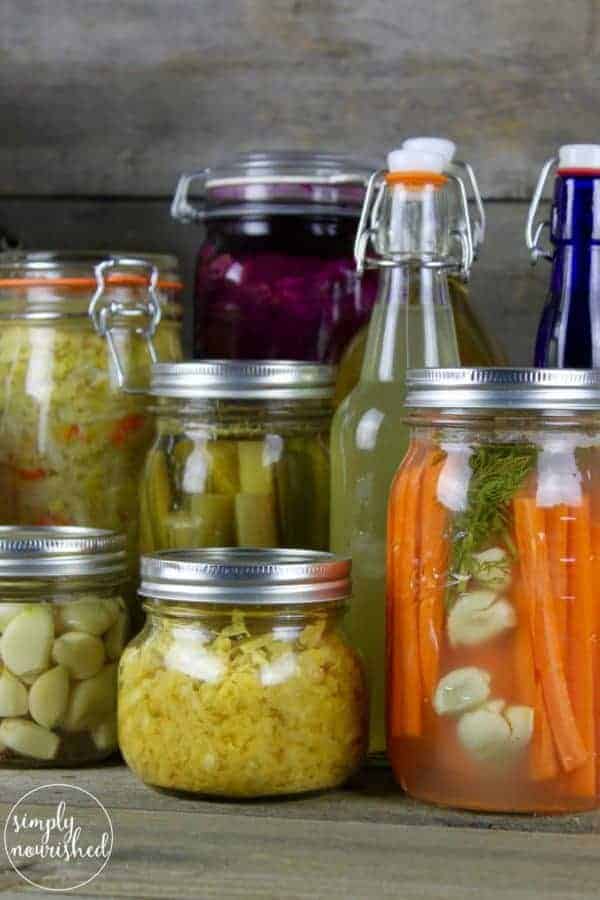 Sauerkraut is making a comeback
And so are it's bubbly cousins kombucha, kimchi and kefir – just to name a few. Long gone are the days of the lackluster, soft and somewhat slimy kraut in a can. The revival of lactofermented foods brings us crisp krauts in a variety of flavors, crunchy garlic-dill pickles, probiotic-rich condiments and delightfully fizzy beverages.
Wonder what all the hype is about fermented foods!? They're awesome and we love them and we can't wait to share with you why we think so highly of them. (Wow. I should probably take a breath here, huh?)
What is Lactofermentation?
Lactofermentation, or fermentation, is the process of using bacteria or yeast to convert sugars or starches (carbohydrates) to acid, gas or alcohol. One of the best examples of this is using yeast to leaven bread or lactic acid bacteria to preserve vegetables. Lactic acid bacteria (LAB), or lactobacilli, are naturally present on the surface of fruits and vegetables. They also happen to be naturally occurring on your skin and in your gastrointestinal, urinary and reproductive tracts. These bacteria, when present in an anaerobic (without oxygen) environment, feed on the sugars and starches in the vegetables or fruits to produce lactic acid. This lactic acid then lowers the pH thereby killing off harmful or pathogenic bacteria and while preserving the food without the use of vinegar or preservatives.
This process of fermentation allows us to safely produce sour foods like sauerkraut, kimchi (spicy Chinese cabbage and peppers), yogurt and kombucha, just to name a few.
In addition to preserving the food, the foods and beverages become probiotic-rich (i.e. good for the gut), produce their own enzymes which help you digest your food better and supply a healthy dose of B-vitamins and omega-3 fatty acids.
Old world 'technology' meets modern science
Lactofermentation has recently begun to gain traction in the health world thanks to new research pointing to the link between brain and gut health, but it's actually an old world method of food preservation. Back in the day before refrigeration people needed to preserve their summer harvests and store the milk from dairy goats and cows without worry of it spoiling. They may not have had microscopes but they knew that the addition of salt and/or naturally occurring yeasts or bacteria could retard spoilage during the long winter months when nothing could grow, thus helping to ensure their survival.
New research pertaining to this centuries old process is emerging almost daily which supports the benefits of using fermented foods daily to help balance and augment your gut microflora. A healthy and robust colony of beneficial bacteria in the gut can support a healthy immune system and improve brain function, among other things.
You can start to see why we're so keen on these foods but in case you're not fully convinced to dive into a jar of Homemade Sauerkraut or try your hand at these insanely easy and delicious Fermented Carrots with Dill, here are our top 5 reasons to add fermented foods to your diet every day.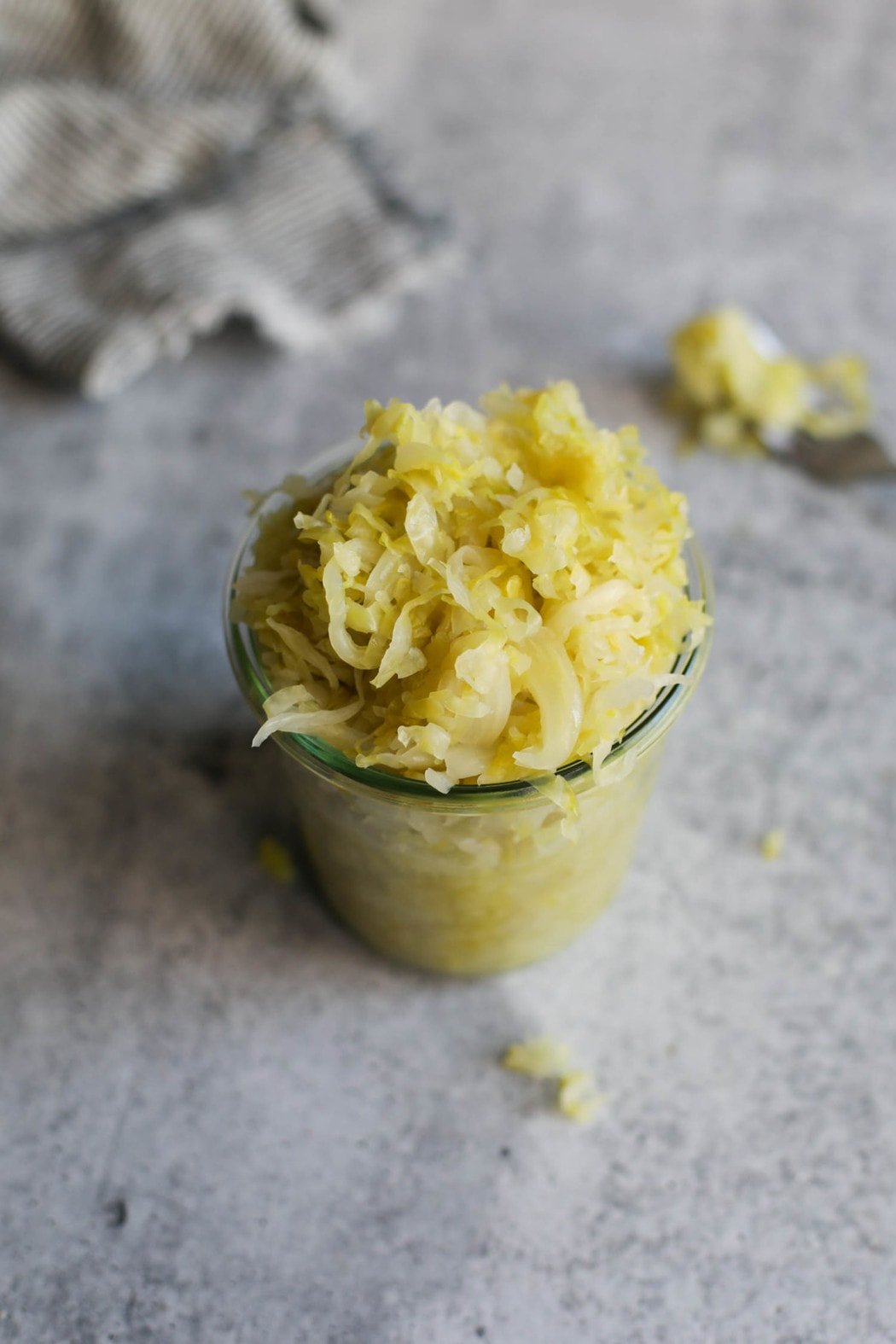 5 Reasons to Eat Fermented Foods Every Day:
1)   Abundant in beneficial bacteria: Fermented foods are full of beneficial bacteria. When you consume these foods you're introducing numerous strains of beneficial bacteria into your digestive system. These bacteria are micro-organisms referred to as probiotics, which means 'for life'. These bacteria then take up temporary residence in your intestines where they produce vitamins, strengthen the immune system and help crowd out pathogenic or disease-promoting bacteria thus helping to balance your gut flora (the community of bacteria in your gut). Additionally, the short-chain fatty acids produced by the bacteria help maintain the integrity of the cells lining your digestive tract.
Did you know? Probiotics in pill or supplement form are often limited to 3-5 strains. Fermented foods can have up to 100 times the amount of bacteria found in your daily supplement for just a fraction of the price.
2)    Preserves food and nutrients: Fermentation is a way of preserving food for long periods of time with little or no energy inputs thanks to bacteria and yeasts who do much of the work. The lactic acid found in fermented foods is a natural preservative that inhibits the growth of harmful bacteria and keeps food safe (and delicious) for longer. In addition, this ancient technique of preserving foods not only protects the nutrients in the food from degrading but also makes them more bioavailable to your body. Take for example cabbage, which is a good source of vitamin C. When you eat raw cabbage much of it passes through your digestive tract undigested so you don't get that much vitamin C. But when it's been fermented into sauerkraut, the amount of vitamin has not only increased but it's also easier for your body to absorb.
3)    Enhances the Immune System: Since nearly 80% of your immune system is located in your gut, it makes sense that you'd want to supply it with plenty of probiotic-rich fermented foods to keep it strong. When you have more good bacteria than bad you increase your chances of being able to fight infections and lower inflammation.
4)    Improves digestion and gut health: Fermented foods improve gut health by balancing the composition of your gut flora to help you better digest and absorb the food you eat. Foods fermented are also full of digestive enzymes that can help you more easily break down and absorb what you put into your body. This is good news for healthy eaters because it means you get more bang for your buck when consuming a nutrient-rich diet.
5)    Affordable: You can buy many fermented already made at most natural food stores and some supermarkets but you'll likely pay a pretty penny for these precious, probiotic powerhouses. You can easily and affordably make your own at home with just a few ingredients. To learn more about fermenting vegetables, see our Fermented Carrots with Dill recipe or our incredibly popular How to Make Sauerkraut tutorial or check out some of these great how-to articles or grab this book to get started.