When you want a refreshing sipper, but don't want to consume loads of sugar from pre-made cocktails mixes and commercial syrups, turn to this collection of delicious and light cocktails that are full on flavor but low in calories. These low sugar cocktails are fresh, made from real-food ingredients, and always a hit. Plus, if alcohol is not your thing, each recipe comes with our easy instructions for how to turn these into low-sugar mocktails, as well!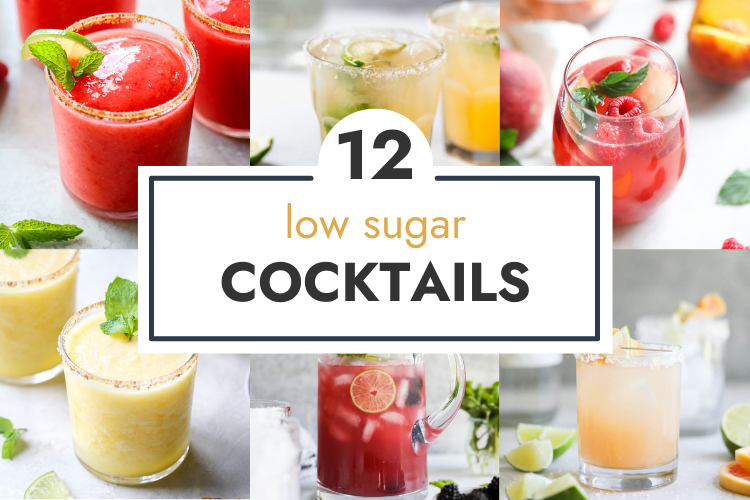 12 of our Favorite low sugar cocktail recipes
Featuring fresh berries, citrus, and herbs, these low sugar cocktails always hit the spot. Whether you're in search of recipes for light, fruity, refreshing summer cocktails to enjoy at a backyard BBQ or a low sugar drink to serve for a holiday, this collection of cocktail and low sugar mocktail recipes can be served any time of the year. These 12 light cocktail recipes are fan favorites that you'll love to serve to others and enjoy yourself!
Gluten Free | Vegan | Vegetarian | Dairy Free | Mocktail Option
Here's the perfect Moscow Mule recipe (make it a cocktail or a mocktail) for when you want to cool down and kick back with a just-right sipper! We love this version of the traditional Moscow Mule that features refreshing ingredients like cucumber, basil, and fresh ginger. Plus, use our suggestions for ginger beer or ginger kombucha to cut back on sugar and get a pop of flavor all at the same time!
Gluten Free | Vegetarian | Dairy Free | Vegan
This light and refreshing Prosecco cocktail is just the thing to serve when you want a drink that is fruity and satisfying without being overly sweet or loaded with sneaky grams of sugar. Featuring lime juice, fresh berries, and mint, an easy-to-make batch of these Prosecco cocktails is bubbly and special for serving guests or just enjoying a beautiful evening on your own patio.
Gluten Free | Grain Free | Vegan | Dairy Free | Mocktail Option
These cool and refreshing Frozen Strawberry Margaritas are refined sugar-free and made with just 5 ingredients, including frozen strawberries, tequila, fresh lime juice, and your choice of agave nectar or honey. It couldn't be more perfect of a cocktail (or mocktail) to enjoy on a hot summer day.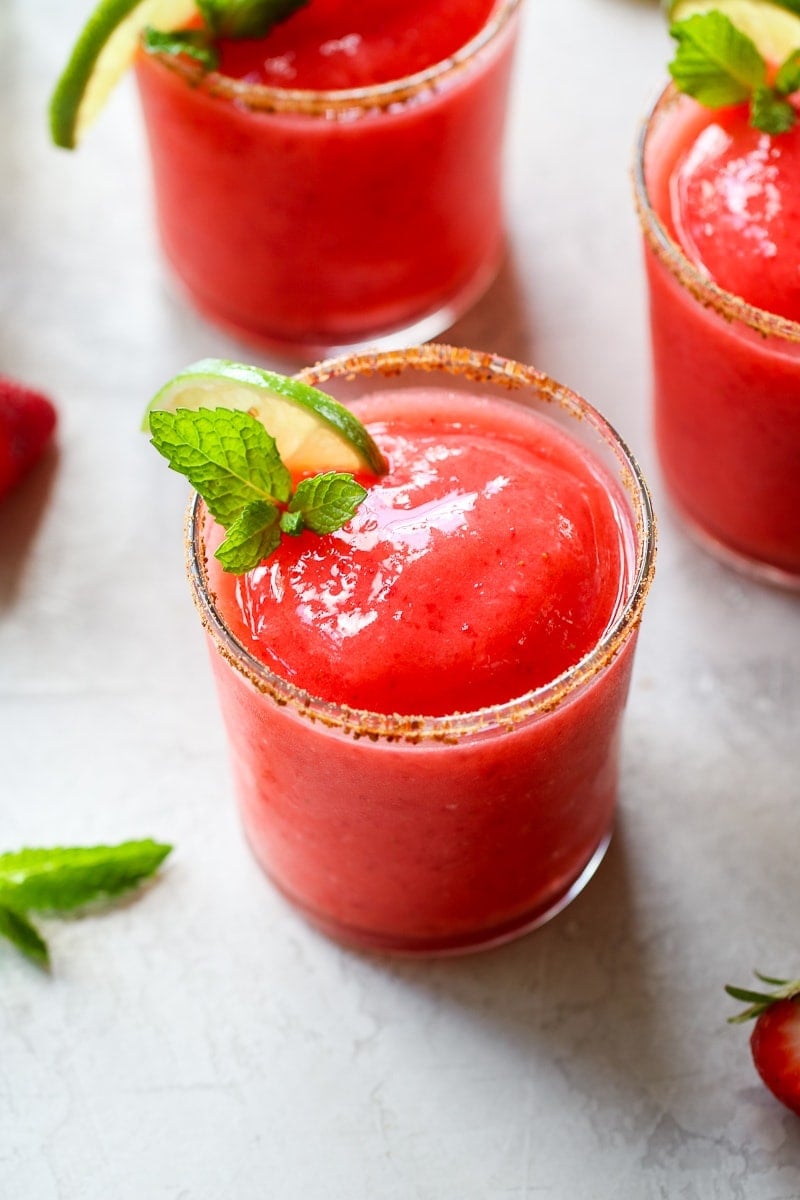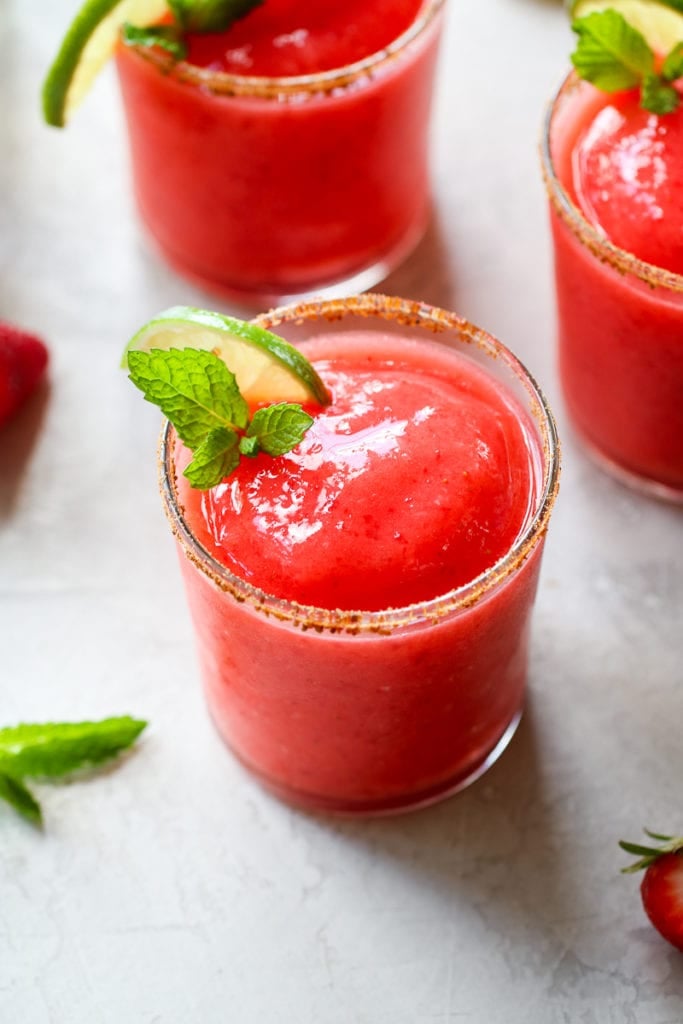 Gluten Free | Vegan | Grain Free | Dairy Free
Rosé is great, but sangria takes it to another level. We skipped the simple syrup sweetener and instead added just a bit of natural sweetness (from fruit) to make this Raspberry-Peach Rosé Sangria one you'll love to sip and share. It's a delicious way to highlight seasonal berries and peaches along with a splash of sparkling water or seltzer that makes it bubbly and refreshing.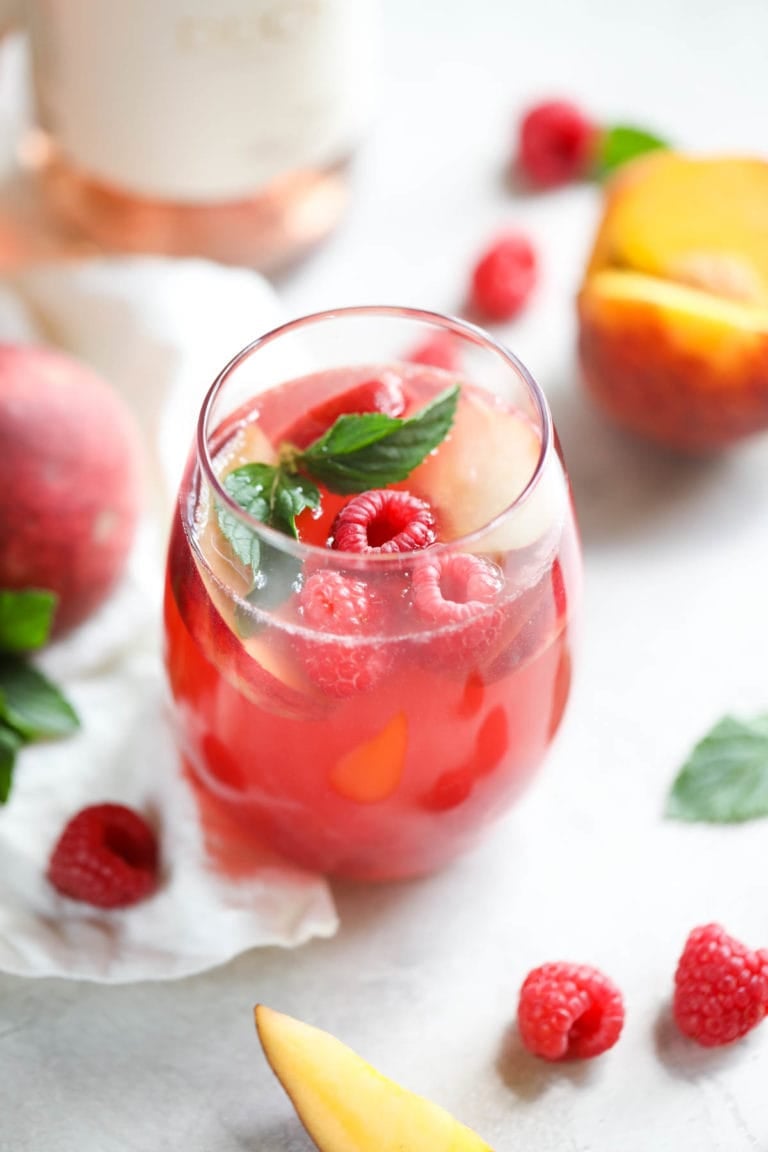 Gluten Free | Grain Free | Vegan | Mocktail Option
Frozen Pineapple Blended Margaritas are made with just four simple ingredients and no sugar added. Best of all, this recipe comes together fast with frozen pineapple, lime juice, orange juice, and tequila. Simply toss it all into a blender, give it a whirl, pour, and enjoy!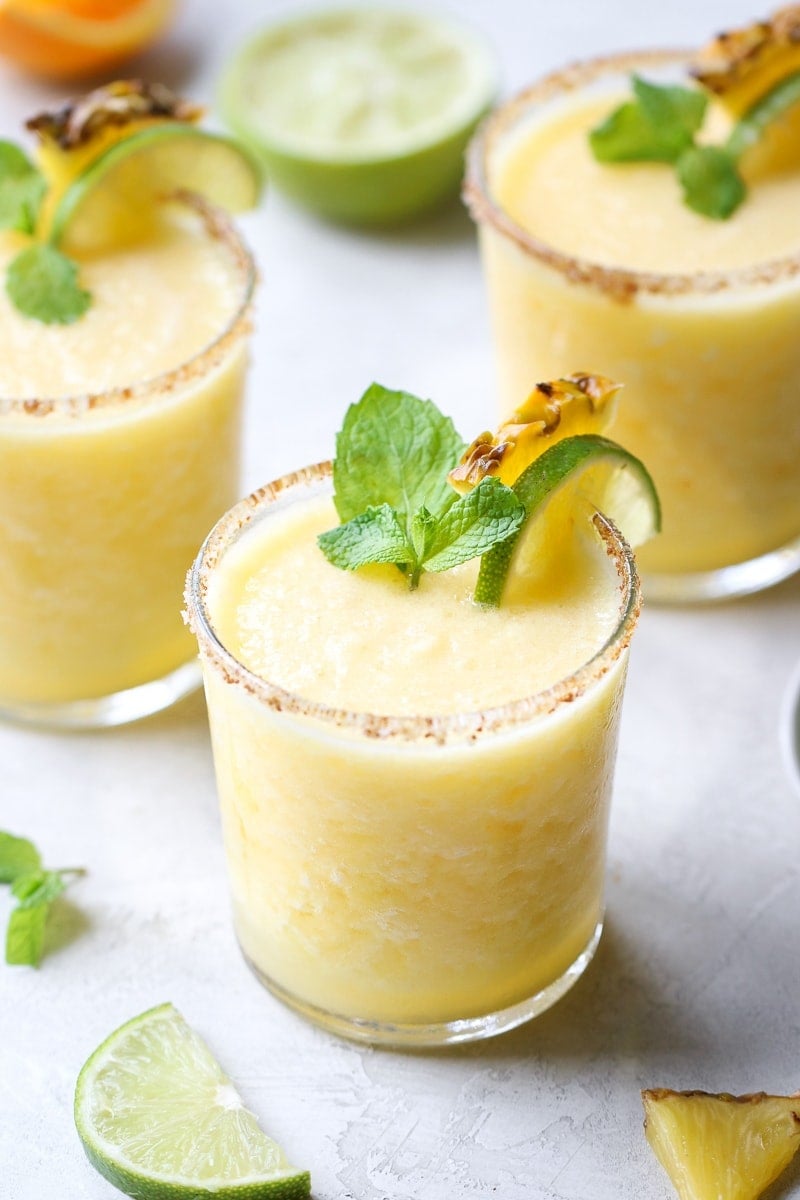 Gluten Free | Vegan | Dairy Free | Mocktail Option
A refreshing mix of grapefruit and lime juices with just enough tequila to shake things up, this is one of our favorite low sugar cocktails because if it's great taste and beautiful blushing pink color. Three ingredients (including fresh grapefruit juice) is all it takes to make these low calorie palomas, plus some options for garnishes and a little coarse salt on the rim!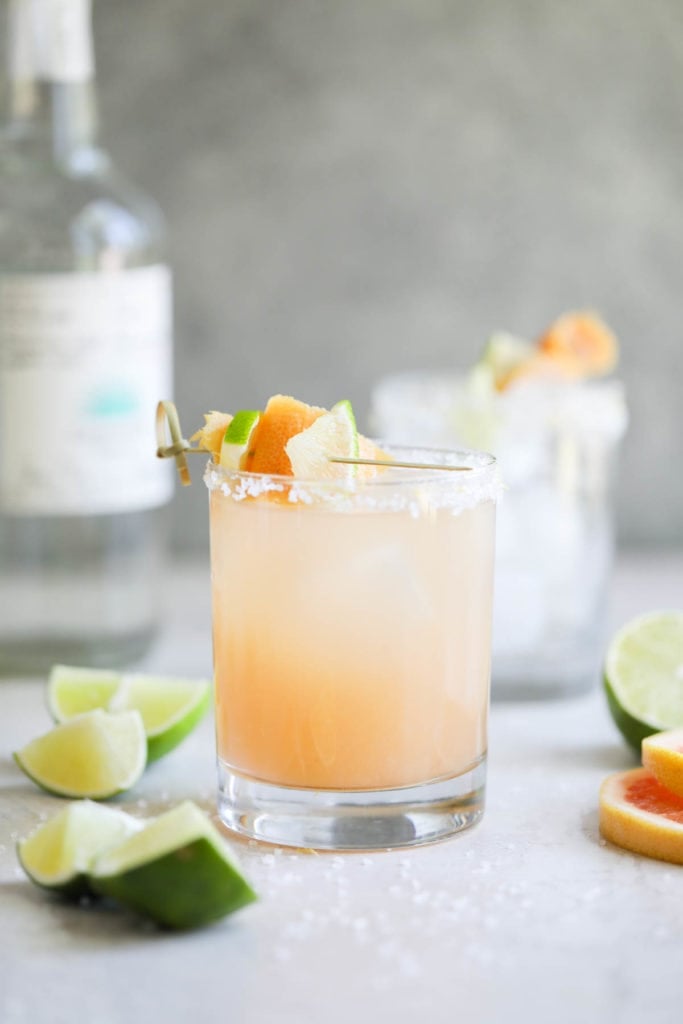 Gluten Free | Vegan | Grain Free | Mocktail Option
This Watermelon Mojito is refined sugar-free, made with fresh mint and juicy watermelon, and is the perfect cocktail (or mocktail) to enjoy on a hot day. It's easy to make with just five ingredients, including watermelon, lime, and rum, but no simple syrup or other added refined sugar. The watermelon provides plenty of sweetness to the drink without the need for sugar.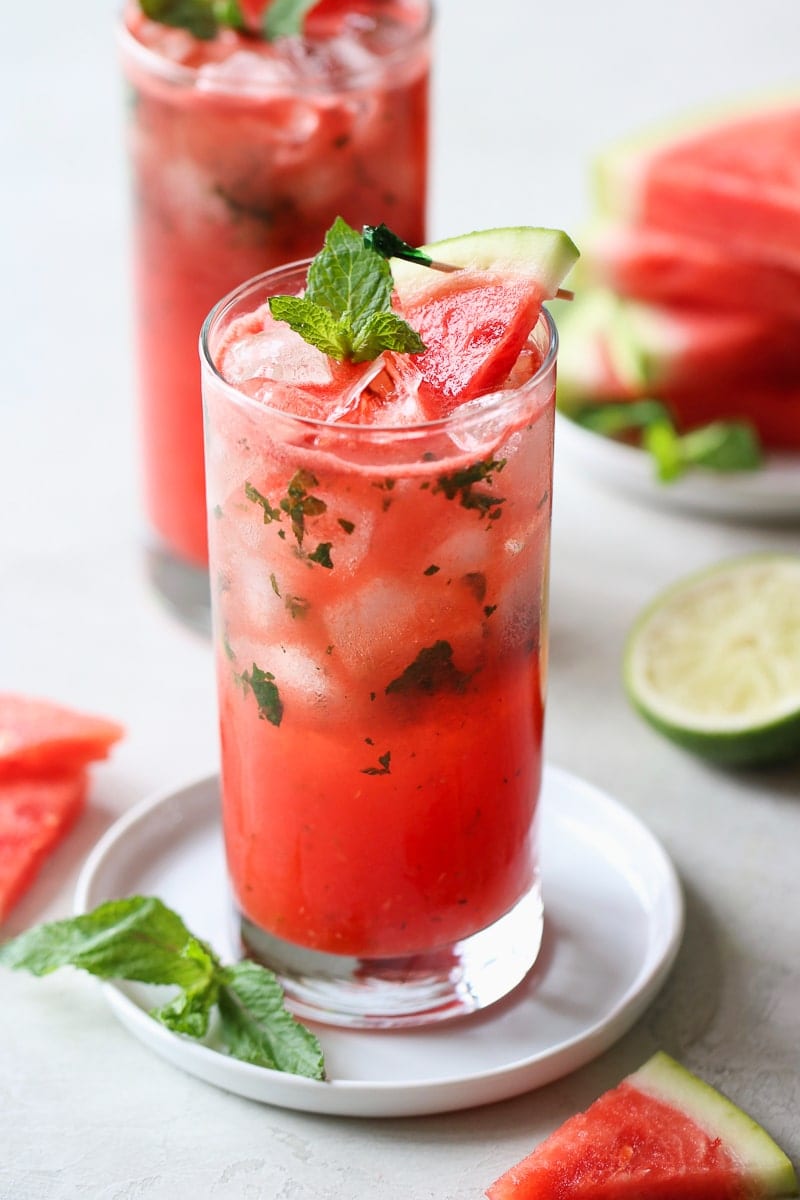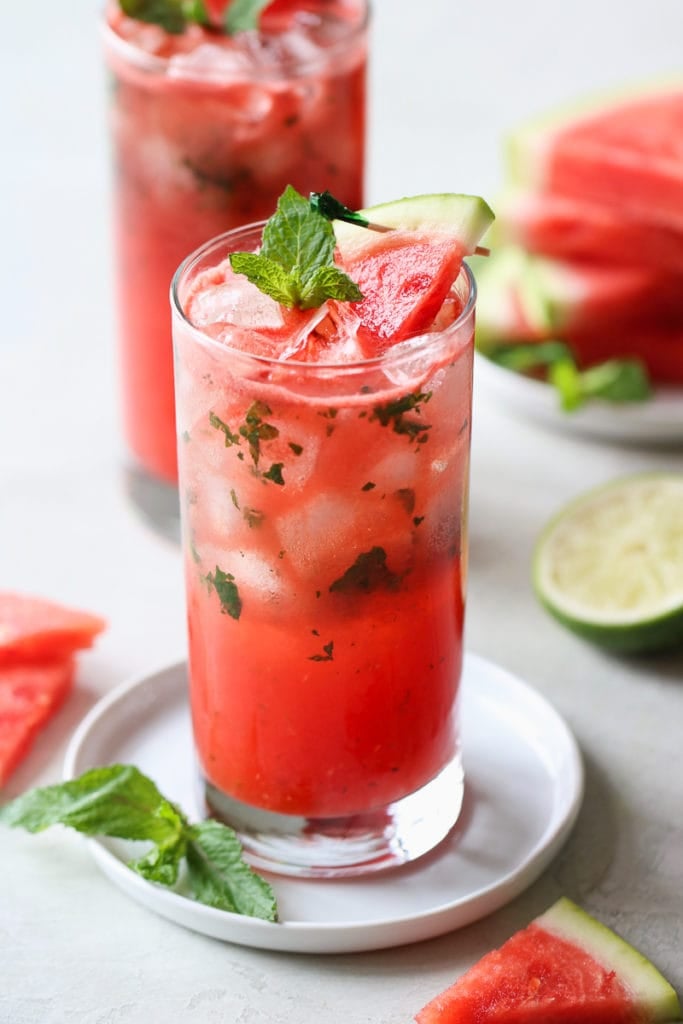 Gluten Free | Vegan | Dairy Free | Mocktail Option
A traditional mojito contains about 24 grams of cane sugar per 8- to 10-ounce drink. To put that into perspective, that's 6 teaspoons of sugar! No thank you, we just wanted a refreshing drink. Rest assured, you won't be consuming that amount of sugar with this Strawberry Mojito Kombucha Cocktail. Instead of all that sugar, we've made this cocktail less sweet, but still sweet enough, thanks to fresh strawberries and sparkling kombucha. Now they ring in at just 8 grams of sugar per serving. Much better!
Gluten Free | Grain Free | Vegetarian | Mocktail Option
Margaritas are notoriously high in sugar, but this recipe proves they don't have to be. It's possible to have your margarita without downing more sugar than you'd get in a large slice of frosting-topped cake when you use naturally sweet citrus fruits and a touch of honey in place of syrupy-sweet pre-made margarita mixes.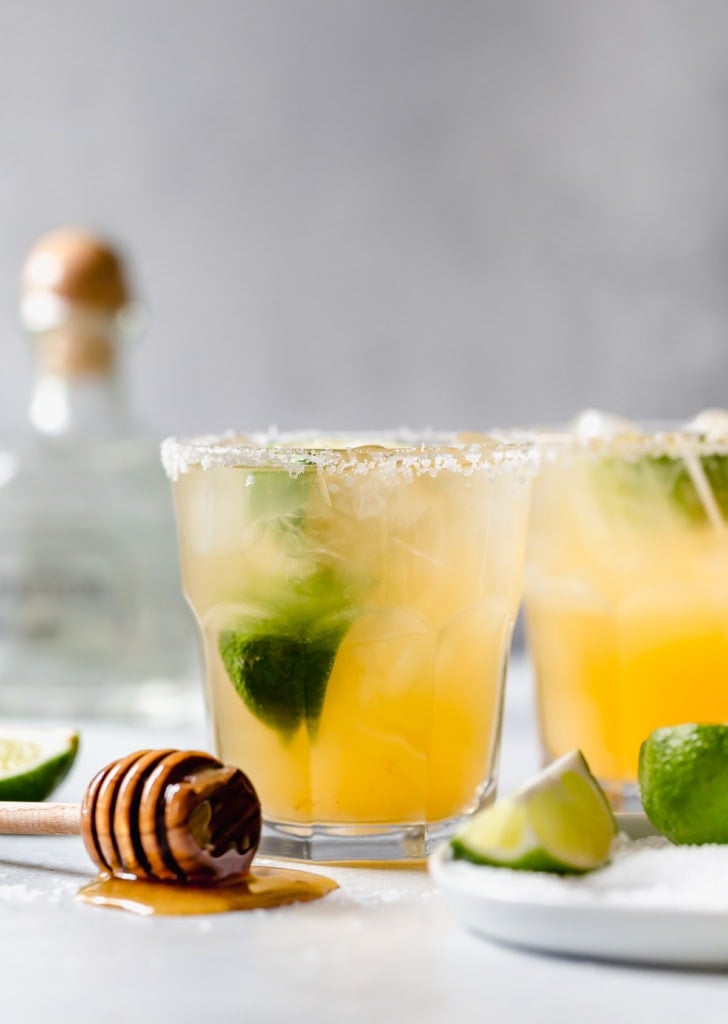 Gluten Free | Dairy Free | Vegetarian | Mocktail Option
We've combined two delicious things: mojitos and wild blueberries, to create a fun and fruity twist on a favorite summer cocktail. Frozen wild blueberries make a wonderful addition to this lower-sugar cocktail since they pack a big punch of flavor, color, and nutrition all in one. You can also opt to make this a non-alcoholic mocktail by replacing the white rum with our suggestions in the recipe card.
Gluten Free | Dairy Free | Vegetarian | Mocktail Option
If you love wine spritzers, give this low-carb cocktail recipe a try to shake things up! Our fresh spritzer is a light and stunning low sugar cocktail that's just as perfect for summer as it is for a New Year's Eve celebration. It works hard all year round and have flavors that please, no matter the season. Start by making a thyme-infused honey syrup, then add a touch of lemon juice, vodka, and sparkling water to bring this cheers to life!
Gluten Free | Grain Free | Vegetarian | Mocktail Option
This Sparkling Cranberry Kombucha Mocktail lets you sip the night away and still feel your best the next morning. It's a refreshing and stunning non-alcoholic alternative to sugary holiday cocktails. The ginger and rosemary lend a festive touch and pair nicely with the tart cranberry juice. So now you can celebrate the night away without a headache or dehydration – plus you get a healthy dose of probiotics!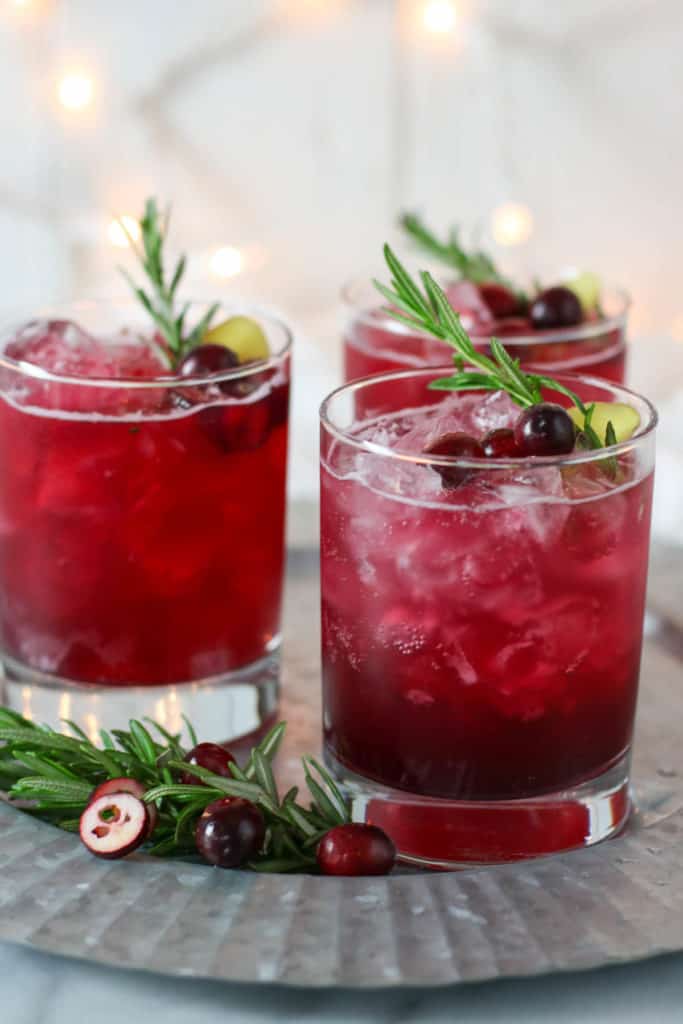 Gluten Free | Vegetarian | Grain Free | Dairy Free
Looking for the best cocktail recipe for fall or a fall-winter holiday? Our Apple Cider Sangria recipe is just the thing to sip on when apple-picking season is upon us. It's made simply with fresh in-season fruits, apple cider, kombucha or ginger beer, and warming spices. Make a batch of this chilled cider sangria to add a special touch to any gathering; a delicious way to savor apple season or any time of year!
What Cocktails have the least Sugar?
Pour the gin, add some juice, simple syrup, a few dashes of bitters, and club soda, and before you know it your light and healthy cocktail has turned into a sipper with tons of sneaky sugar. When you want to enjoy a cocktail (or plan to partake in several), we've got a dozen solutions here for low-calorie cocktails that are delicious and just the thing to take the edge off without drowning in grams of added sugar and feeling the icky effects of it later. Whether you prefer to grab your shaker (James Bond style) or simply stir or blend it up, this collection of light seasonal and summer cocktails are great options to turn to when serving guests or enjoying a moment of sensational bliss to yourself.
Pin It Now to Make These Later!
For ultimate success, we highly recommend reading the tips in the full blog post above. All photos and content are copyright protected. Please do not use our photos without prior written permission. If you wish to republish a recipe, please rewrite the recipe in your own unique words. Link back to the source recipe here on The Real Food Dietitians. Thank you!