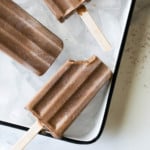 Ingredients
2

15-ounce cans full-fat coconut milk*

2 tablespoons

honey (use maple syrup or agave nectar for vegan pops)

1/4 cup

unsweetened cocoa powder

1 tablespoon

cornstarch or arrowroot powder (optional) – see note below

1 teaspoon

pure vanilla

2

-ounce or

3

-ounce popsicle molds**
Instructions
In a medium saucepan over medium-high heat, combine the coconut milk and honey; bring to a simmer.
Add the cocoa powder and cornstarch and continue to heat and whisk until the powders are well incorporated and the mixture comes to a simmer, 4-5 minutes. Continue to simmer for 1-2 minutes, until the mixture thickens slightly and easily coats the back of a spoon.
Remove the saucepan from the heat and let it sit aside for 15-30 minutes to cool slightly before stirring in the vanilla and pouring the mixture into popsicle molds.
Pour mixture into 2- or 3-ounce popsicle molds and place in freezer 8 to 24 hours before removing from molds and wrapping individually in plastic wrap.***
Notes
Wondering why cornstarch? The cornstarch is an optional ingredient, but it does help make the popsicles nice and creamy (aka: less ice crystals). If you do choose to use it, make sure to bring the mixture to a light simmer and then let it cool at least 30 minutes (or longer) before pouring the mixture into the molds. You can sub in arrowroot powder.
* Be sure to shake the cans of coconut milk really well before opening them since the fat solids and coconut water can separate (this is normal). If you already have the cans open, just use a spoon or whisk to mix it all together before pouring it into the saucepan.
** This recipe makes enough mixture to make ten 3-ounce fudgesicles or fifteen 2-ounce fudgesicles. For the photographs in this blog post, we used these 3-ounce molds.
*** It's not necessary to remove the fudge pops from the mold and individually wrap them, but this step does help prevent the ends of the pops from becoming freezer burned and they will last longer in the freezer.
The Nutrition Analysis for 2-ounce pops is (per fudgesicle): 106 calories, 9 g total fat (7 g saturated fat), 18 mg sodium, 0 mg cholesterol, 5 g carb (0 g fiber, 3 g sugar), 1 G protein
Nutrition
Serving Size:

1 3-ounce popsicle

Calories:

160

Sugar:

4 g

Sodium:

26 mg

Fat:

14 g

Saturated Fat:

12 g

Carbohydrates:

8 g

Fiber:

1 g

Protein:

2 g

Cholesterol:

0 mg