Burrata toast with sautéed mushrooms is a must-serve for your next appetizer party or even just a simple evening with friends or family. Paired with a glass of Oregon Pinot Noir, the creamy burrata and herby savory mushroom mix help set the backdrop for good conversation and happy moods all around. When you receive compliments on this recipe and everyone asks for the recipe, you might be a bit taken back at how something so simple could be such a hit. That's the beautiful design in this easy sautéed mushrooms over burrata toast recipe. It's made with just a few real-food ingredients that are masterfully combined in a way that perfectly lands with anyone who tastes it.
This post was created in partnership with Erath.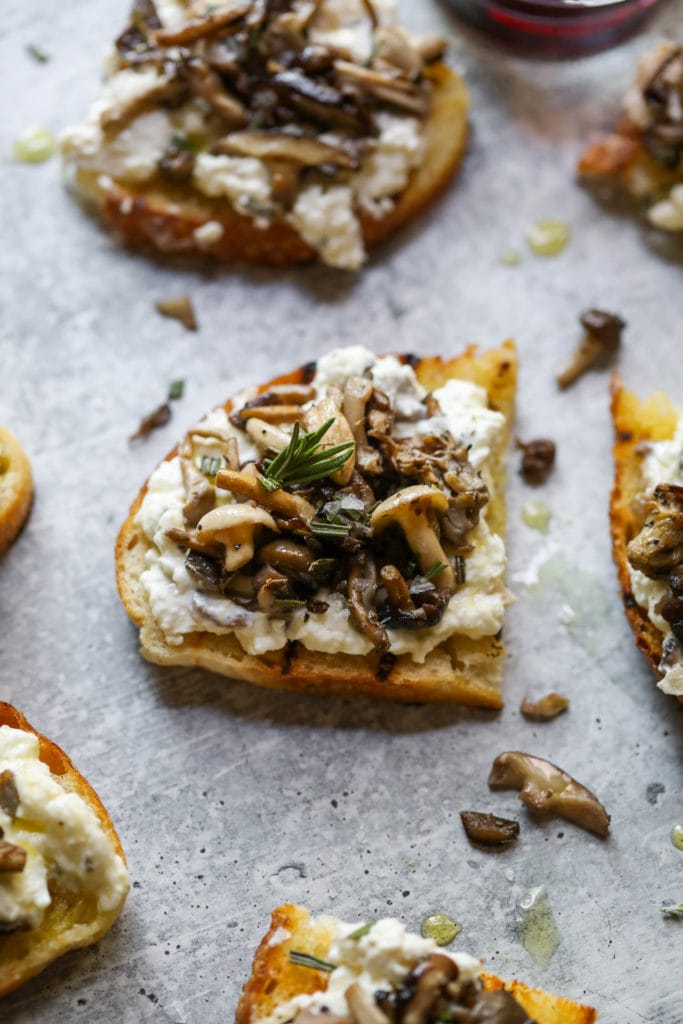 an appetizer dinner to remember
One holiday memory that all of us here at The Real Food Dietitians share is of casual family gatherings with a table full of snacks and appetizers. The memory is so engrained because composing a plate of different chosen bites always felt so fancy and special. The comforting smells, the variety of flavors and textures, the ability to choose and try new foods. It's just what a budding foodie-dietitian dreams of.
Whether it was a new dip, a platter of fondue dippers, roasted nuts or snack mix, or a saucy meatball on a toothpick, holiday appetizers remind us of happy family gatherings, jovial conversation, and delicious moments we will always savor.
Burrata and Sautéed Mushrooms on Toast is the holiday appetizer of the year
We never guarantee that a recipe will be a hit in your home, but we are almost certain that this simple combination of fresh real-food ingredients will be the talk of your table. The pairing of creamy burrata, sourdough toasts, and herby sautéed mushrooms is just decadent enough to make you feel as though you're at a fancy restaurant. But the method to make these Burrata Toast with Sautéed Mushrooms is incredibly easy and fast, so you'll have more time to enjoy family or friends and savor a glass of red wine. Now doesn't that sound like an entertainer's dream?
Pinot Noir: A Perfect wine for the holidays
If you're not sure what wine to serve with these delicious mushroom toasts, you can't go wrong with Pinot Noir. We find that a good Pinot Noir wine is one that is loved by nearly everyone. And the Oregon Pinot Noir from Erath is truly unique because of the nature of the climate and soil where the grapes are grown. Our team loves this Pinot Noir, and we find the flavors and aromas are reminiscent of pure fresh red fruits like strawberry, cherry, and raspberry. Those pure fruit flavors pair ever so nicely with a variety of dishes, and that's especially true for this easy recipe for Burrata Toast with Sautéed Mushrooms.
Ingredients to make burrata toast with Sautéed mushrooms
There is no shortage of over-the-top dishes at the holidays, which is why simple recipes are often the unexpected stand-out. This recipe for sautéed mushrooms over burrata is simple in such a way that will make your life easier, yet fancy enough to have everyone asking for the recipe. Each ingredient is able to stand on its own and lend the perfect complement to the other flavors.
Here's what you need to make mushroom toast:
Mushrooms – you'll need roughly 8 to 10 ounces of fresh mushrooms. We recommend using a variety of local mushrooms for flavor and texture variety. In these photos we used a combination of oyster mushrooms, cremini mushrooms, enoki, and maitake mushrooms. Read below for more on mushroom options.
Burrata – this soft, fresh Italian cheese is similar to fresh mozzarella, though much creamier. When you break into the ball of burrata, the fresh buttery and creamy cheese at the center oozes out. You can find burrata on the refrigerated shelves near the mozzarella at most grocery stores and specialty cheese shops. You can sub in full-fat cottage cheese or ricotta cheese. For dairy-free, use a vegan soft spreadable cheese, such as Treeline or Miyoko's Kitchen.
Rosemary – this herb helps round out the creamy and savory flavors in this appetizer. If you don't have fresh, you can also use 1 teaspoon of dried rosemary, or sub in fresh or dried thyme.
Red Wine – a dry, fruity, and light- to medium-bodied red wine, such as a Pinot Noir, is a perfect pairing for the creamy burrata and savory mushrooms in this dish. Not only that, we love to pair a glass of Pinot Noir with the finished burrata toasts for a flavor match just made for the holidays. You can also sub in apple cider vinegar.
Garlic
Sea Salt and Black Pepper
Sourdough Bread – we love the subtle "sour" taste of sourdough bread as a base for these decadent mushroom toasts. To make sourdough toasts, cut slices from a small boule of sourdough, drizzle the slices with a little olive oil, and toast or grill; cut the slices in half before topping with the burrata and mushroom mixture. Alternatively, you can use any bread or gluten-free bread or sturdy crackers to serve with this delicious savory appetizer.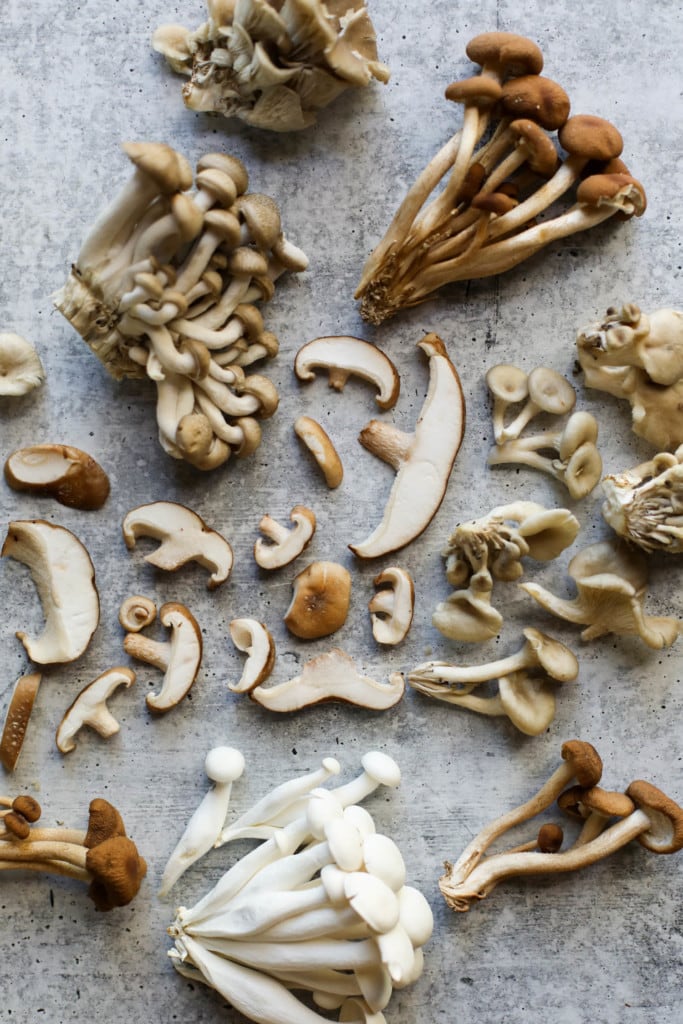 Sautéed mushrooms (the best mushrooms for Sautéing)
This recipe is designed so that you can use any variety or combination of fresh mushrooms. If you can find them at your local grocery store, farmer's market, or CSA, we highly recommend using local mushrooms. Most stores will offer a "chef's mix" which includes a few types of unique mushrooms known for their meaty, savory, and delicious flavors. If you're having trouble finding unique mushrooms, you can always use cremini, button, portobello, shiitake, or a mix of these types.
button – this is the most common type of mushrooms with the iconic mushroom shape, very mild and versatile
cremini – also called crimini, these mushrooms are easy to find and have a mild earthy flavor and meaty texture
portobello – often sold as just the large caps, these mushrooms are sturdy and rich. You don't need to remove the gills
oyster – these mushrooms are beautiful, delicate, and mild; some say they have a taste reminiscent of savory oysters
shiitake – easy to find and work with, these mushrooms have a velvety texture are often added to stir-fries
enoki – these long-stemmed, small-capped mushrooms are a special addition to dishes; tender, fragrant, and savory
maitake – light brown and feathery looking, maitake mushrooms have a slight peppery and earthy taste, often used for topping pizza or toasts
king trumpet – these mushrooms are meaty and perfect for roasting or drying; taste like a mix between a portobello and maitake, with texture comparable to calamari
How to make burrata toast with Sautéed mushrooms
To make these easy sautéed mushroom toast appetizers, you need only 10 minutes or less to prep the ingredients. Then all it takes is a quick (and delicious-smelling) saute time at the stovetop before you assemble the toasts or place everything on a tray to let guests serve themselves. Let the oohs and ahhhs commence!
Heat olive oil in a large non-stick skillet. Sauté the mushrooms until they are tender and release their water, 7-10 minutes.
Stir the garlic, rosemary, and red wine. Season with salt and pepper and remove from heat.
Spread the burrata cheese over toasts or crackers, then top with the sautéed mushroom mixture. Alternatively, you can serve by placing the burrata ball on a tray and topping with the mushroom mixture; drizzle with a little more olive oil. Serve with toasts or crackers so guests can serve themselves.
Two ways to serve burrata toast with Sautéed mushrooms
You can choose the best way to serve this sautéed mushroom appetizer recipe so that it will work best for your gathering.
Serve it family style: You can simply place the ball of burrata cheese on a platter and top with the sautéed mushroom mixture. Set out a variety of sourdough toasts or crackers, plus a spoon or knife so guests can assemble their own appetizer bites.
Serve it make-ahead style: For easier grabbing, you could also pre-assemble the toasts. To do so, spread the mashed burrata cheese over toasts and top with the sautéed mushroom mixture. Place the prepared burrata toasts on a platter and watch them disappear fast.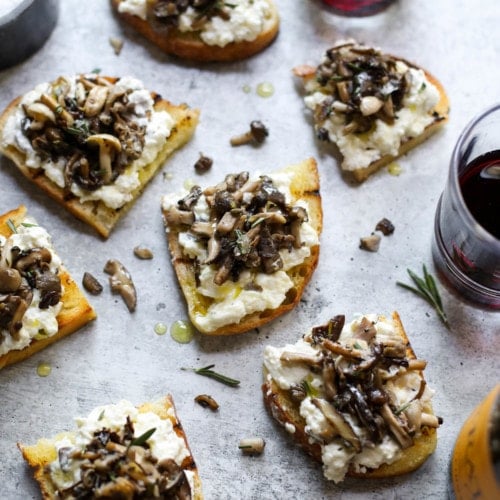 Recipe
Burrata Toast with Sauteed Mushrooms
An easy and decadent appetizer, perfect for holidays or gatherings of all types. We love to serve these warm sautéed mushrooms over creamy burrata with a glass of Oregon Pinot Noir. A simple recipe that impresses the taste buds.
Prep:
10 mins
Cook:
15 mins
Total:
25 minutes
Ingredients
1 tablespoon

extra-virgin olive oil (plus more for drizzling)

8

to

10

ounces fresh mushrooms, coarsely diced (any variety, or a mix)

3

garlic cloves, minced (1 tablespoon)

1 tablespoon

finely minced fresh rosemary (or

1 teaspoon

dried rosemary)

2 tablespoons

Erath Pinot Noir wine or another red wine, or apple cider vinegar

½ teaspoon

coarse sea salt

¼ teaspoon

ground black pepper

1

8-ounce ball burrata

Sourdough bread toasts, or gluten-free bread or crackers for serving
In a large nonstick or enamel-coated skillet over medium-high heat, heat 1 tablespoon of olive oil. When the oil is shimmering, add the mushrooms and sauté until tender and mushrooms release their water, 7-10 minutes. 

Stir the garlic, rosemary, and red wine into the skillet and sauté 1 minute more, stirring up any bits stuck to the bottom of the skillet. Season with salt and pepper and remove from heat. 

To serve, spread burrata over toasts or crackers. Spoon the sautéed mushroom mixture over top. Alternatively, you can serve by placing the burrata ball on a tray and top with the mushroom mixture; drizzle with a little more olive oil. Serve with toasts or crackers so guests can serve themselves.
Last Step! Please leave a review and rating letting us know how you liked this recipe! This helps our business thrive so we can continue providing free recipes and high-quality content for you.
Notes
If available, look for a chef's mix or mix of local, wild mushrooms. The variety adds interest and texture to the mix. A mix of chopped cremini, shiitake, and portobello mushrooms is nice, too.
Nutrition Information
Serving Size:

1/8 of recipe

Calories:

137

Fat:

8 g

(Sat Fat:

4 g

)
Sodium:

269 mg

Carbohydrate:

10 g

(Fiber:

2 g

Sugar:

1 g

)
Protein:

5 g

Cholesterol:

20 mg
Dietary
Pin It Now to Make It Later
---
This post was made possible by our friends at Erath. Although we received compensation for this post, the opinions expressed here are – as always – 100% our own. Thank you for supporting the great companies we work with thereby allowing us to continue creating great recipes and content for you.
All photos and content are copyright protected. Please do not use our photos without prior written permission. If you wish to republish this recipe, please rewrite the recipe in your own unique words and link back to the source recipe here on The Real Food Dietitians. Thank you!