5 Ways Collagen Can Improve Your Health
Collagen is the most abundant protein in the body and is a crucial component of our connective tissues, cartilage, bone and skin.
Likewise with animals. Those tougher 'parts' that we often throw out or cut off – gristle, ends of bones, tendons and skin – contain the most abundant sources of dietary collagen. Which leads us to ask, if collagen is such an important protein why is it not a main component of our diets?
Our ancestors did consume these tougher parts of the animal as part of their traditional diets as they made use of the entire animal, not just the choice cuts of beef or boneless, skinless chicken breasts like we often do today. We've also grown to prefer the taste of cooked meat over raw meat and bones which again, means less total collagen in our diets. But don't worry, you don't have to eat raw meat and bones to get collagen because there are plenty of ways to get more in your diet (and it's super easy. Anyone can do it).
So what
is

collagen?

Let's get our science on for a minute. Bear with me, this isn't college-level science, it's kitchen table science and its good stuff you'll want to know so you can impress your friends at cocktail parties. Okay, maybe not that second part but it is good to know how a simple ingredient can improve your health from head to toe.

Collagen is essentially the glue that holds us together. When we boil down the cartilage, tendons, ligaments, skin and bones of animals we make gelatin which we can then consume to make our own body parts. Put simply, gelatin is the cooked form of collagen and contains the same beneficial amino acids as the whole source of collagen (i.e. cartilage, tendons, ligaments, skin and bone). When your bone broth or pan juices from a roast or whole chicken gel in the pan after cooling, that's the magic of gelatin you're seeing.

Another cooked form of collagen is collagen peptides which is slightly different from gelatin in that it doesn't gel, or thicken, when cooled. This hydrolyzed (aka broken down or pre-digested) form of collagen is processed so that the proteins are broken down into smaller pieces that retain all of the amino acid building blocks but prevents it from gelling when added to liquids. This form of collagen is easily digested, contains all of the health benefits of gelatin and its one of the most convenient ways to add collagen to your diet everyday.

Our go-to for collagen peptides is the Vital Proteins brand because it easily mixes into hot and cold foods and beverages, is flavorless and provides 9 grams of easily digested protein in a heaping tablespoon. These collagen peptides are sourced from grass-fed and pastured raised bovine hide so all you have to do is mix and drink. No need to chew and chew on rawhide to get all the great benefits of collagen. Keep reading for why you need more collagen and how to get it.
5 reasons you need collagen:
As you probably already know, we love our Vital Proteins collagen peptides. We use them religiously in our coffee and smoothies and recommend them to our clients as well. The short chain amino acids found in collagen peptides are easy to digest, highly-bioavailable (meaning your body can make full use of them) and they're also a rich source of important amino acids such as glycine, proline, and glutamine to name a few – which are necessary for detoxification, immune function, healthy digestion, bone and joint health, skin health and tissue repair.
As we age, our bodies lose their ability to produce collagen which makes it even more important to get enough from our diet to help combat the signs of aging like osteoporosis, digestive troubles, arthritis, thinning skin and even wrinkles!
Improves joint and bone health: Cartilage is found throughout the body in your joints, esophagus, ears and nose. The cartilage in your joints, which protect your bones from rubbing against one another, is an amazing network of collagenous fibers, water, proteoglycans (proteins bound to sugar molecules that attract water), fat, albumin (a slippery egg-white substance), minerals and hyaluronic acid. Your joints can produce their own collagen with proper hydration and nutrition, however, as you age your ability to produce the collagen essential for supple and resilient cartilage decreases and thus increases the likelihood of developing osteoarthritis or pain caused by bone rubbing on bone. Supplementing your diet with collagen peptides or gelatin is an easy way to support joint health by providing your body with the collagen it needs to build and maintain cartilage in the your joints. Collagen also contributes to bone health by supporting increases in bone and mineral density and lessening the incidence of brittle bones. 
Builds and maintains a healthy gut barrier and supports good digestion: Glutamine and glycine, two amino acids abundant in gelatin and collagen peptides, are essential for healthy digestion. Glutamine is the preferred fuel for cellular reproduction in the gut and supports the healing and growth of new cells and the tissue that makes up your intestinal tract. Glycine contributes to the production of bile salts (to help you digest fat) and adequate gastric acid secretion in the stomach which is another vital function that decreases as you age. For other ways to improve your digestion naturally and why more stomach acid is actually a good thing, see this post.
Supports skin health and growth of hair and nails: Collagen is an essential building block for the the largest organ of your body, the skin. Its major role is cohesion, structure, elasticity and regeneration. As we age, collagen production decreases causing wrinkles and thinning skin that's more prone to skin tears and cuts. Supplementing with collagen peptides daily can improve the appearance of micro-lines, improve skin hydration, lessen the appearance of deep wrinkles and improve the overall appearance and suppleness of your skin. Collagen also supports the growth of hair and nails, making both thicker and stronger. 
Strengthens the immune system: Glutamine is a key amino acid for a healthy and strong immune system because of its involvement in several immune functions. When your body is under physical and emotional stress its ability to manufacture glutamine on its own is greatly diminished and, you guessed it, that's precisely when you get sick! Glutamine also speeds healing following injury, stress, infection, surgery, burns and most major illnesses thanks to its involvement in both cellular turnover and repair and stimulation of immune cells.
Detoxification: Last, but not least, the glutamine and glycine found in collagen are important for liver health and support of your body's natural detoxification processes. Your body naturally detoxifies itself of toxins but needs all the help it can get considering just how many chemicals you come in contact with every day through food, water, air and products you apply to your skin. Both glutamine and glycine are necessary for the production of glutathione, the master antioxidant, that's required by the liver to do its job properly.
Bottom Line: Collagen peptides keep you looking and feeling young and they're easy to add to your daily routine. 
3 ways to add collagen to your diet:
Make a bone broth:  Slow-simmering bones and water with a splash of apple cider vinegar or wine extracts the collagen leaving you with a delicious, versatile and healing traditional food. Bone broth can be utilized in many ways such as in a soup or a pan sauce like gravy. For extra gut healing stir a tablespoon of collagen peptides into your hot cup of broth before sipping and enjoying. Learn how to make bone broth at home using this easy slow-cooker recipe  or this recipe using the Instant Pot.
Stir Vital Proteins collagen peptides into your morning coffee, tea or beverage of choice: Not a coffee or tea drinker? Add a scoop (roughly 2 1/2 Tablespoons) of these flavorless peptides to your next smoothie or green juice or just mix it with water and toss it back in the morning for a boost of collagen. Collagen peptides can also be stirred into yogurt, applesauce or oatmeal without gelling or changing the flavor of the food – a great way to get added protein and nutrition into your little ones and unsuspecting husbands. 
Enjoy homemade treats and desserts made with gelatin: Vital Proteins also makes a flavorless gelatin made from grass-fed, pasture-raised beef that's perfect for making homemade 'gummy' treats at home using real fruit and natural sweeteners. It's also my go-to thickener when making homemade ice cream like this

Dairy-free Vanilla Bean Ice Cream 

or these naturally-sweetened homemade marshmallows and S'mores.
How much collagen do you need?
If you're eating a whole food diet and are in good health and physical condition, 1 scoop (2 – 2 1/2 Tablespoons) is a good starting point. If you're sick, stressed, have higher than average protein needs, have recently undergone surgery, are recovering from childbirth or have a leaky gut or celiac disease you may want to increase your daily intake to 2 scoops. If you're unsure where to start, a Registered Dietitian Nutritionist or other qualified health care provider can help you determine the amount that's appropriate for you.
Where to buy Vital Proteins Collagen Peptides and Gelatin
You can purchase your collagen peptides and gelatin directly from Vital Proteins and receive free shipping on all orders to the U.S.

Vital Proteins Pasture-Raised Collagen Peptides
(Collagen Peptides will not gelatanize – perfect for stirring or blending into drinks)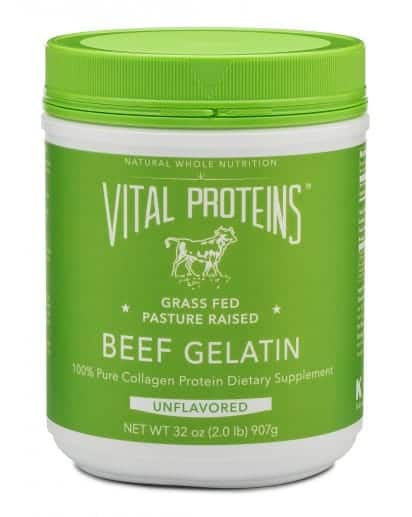 Vital Proteins Pasture-Raised Beef Gelatin
(Beef Gelatin will gelatinize/thicken – perfect for homemade gummys, marshmallows or ice cream
And we can't forget! Here's 3 delicious ways to get the benefits of collagen
Pin now. Read Later!
Are you a collagen newbie or pro? If you're a pro, we'd love to hear how you use yours in the comments below!
This post may contain affiliate links which won't change your price but will share some commission.