We did it! Happy One Year Blogiversary to Us!

Today officially marks the 1 year anniversary of our "blog baby"!
It's crazy to think that we've been at this for one whole year – or depending on how you look at it, JUST one year.
There have been times this year when we both stepped back and said "Wow, that year went by fast" and other times when we've said "This has been the longest year ever". But no matter how you slice it and dice it, one thing remains true: It's been a great ride and we're looking forward the the next year on the blog.
Here's a quick glimpse into the maddness awesomeness of our first year of blogging.
Rebrands, redirects and recipe redos…oh, my!
This past year brought a lot of ups and some downs and loads of opportunity for growth (some really hard, out-of-the-comfort-zone growth at that). We've got a long running list of "things we never wanted to learn" that we had to figure out this first year – many of them having to do with technology, taxes, finances and most importantly, how to run a business with another human being and Type A personality (and remain friends while doing so). Thankfully we have enough differences to balance the similarities and that each of us have unique strengths in different areas making us a great team. For example, Stacie has a knack for social media and collaborating with brands whereas Jessica tackles the tech side of things and enjoys the writing tasks on the blog and weekly newsletters and emails.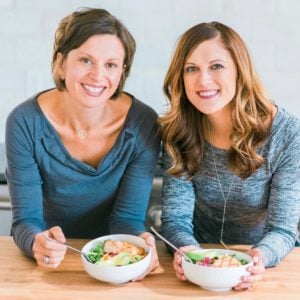 This past year also brought a big rebrand when we moved from the sweet and simple Simply Nourished name to the clean and bold The Real Food Dietitians. This rebrand almost killed us, what with all the redirects from old domains, Pinterest images that would go to no where, a host that couldn't handle our ever increasing traffic – and that's just the tip of the iceberg. There were tears and there were threats to pull the plug but there was also passion, drive, desire and hope (and you, lovely reader, were the reason we didn't throw in the kitchen towel after a very trying 8 months). 
On a lighter note, we also had our share of epic recipe flops – like the time Jessica mixed chopped fresh pineapple into ground bison in an attempt to create the ultimate sweet and savory burger. Let's just say this, Stacie's dogs may have turned their nose up at the steamy, semi-grilled pile of hot mush that came off the grill that day.
Thankfully the redo turned into this mouth-watering Bison Burger with Grilled Pineapple and Sriracha Mayo and she was able to redeem herself!
It's all about the hustle (and the gratitude)
Looking back we can both safely say that running a blog and making a business out of it is hard work. Damn hard work! The hustle is real.
Late nights, early mornings, weekends, week-long work binges, overflowing inboxes and the constant grind of social media – that's been our reality for the past 12 months.
This, friends, is the secret to building and growing a successful blog in just one year: Hard work, perseverance, passion, drive, picking yourself up and trying again, wiping away the tears and sleeping on it when everything feels hopeless (because things always look better/easier/more doable/less painful in the morning light).
Of course, we couldn't have done it without you.
The support from our readers and followers has been incredible this past year. To receive an email or message on a daily basis thanking you for what you do, for changing lives and for being a constant source of inspiration is absolutely priceless – it's truly why we get up each day and keep on truckin' even when faced with more things we never wanted to learn, or tech issues or budget shortfalls or even just plain exhaustion.
So today we celebrate this big milestone and extend our sincerest gratitude to all of you! This blogiversary is as much about you as it is about us – after all, if it wasn't for you we'd still be blogging to just our mom's and a few friends from college.
Cheers to the year ahead!
Grab your coffee, your gut-healing latte, your chai or your kombucha cocktail and join us in raising your glass as we celebrate our One Year Blogiversary and kick off our second year on the blog.
Speaking of blogs….
If you have a food blog or are thinking about starting one be sure to check out Food Blogger Pro – it's an online membership program for bloggers big and small. Much of our success in blogging this first year can be attributed to all of the amazing resources we tapped into within Food Blogger Pro.
Seriously, the minute we stopped Googling everything from how to set up a WordPress site to how to use our cameras and started taking advantage of the hundreds of hours of video tutorials and answers from experts in the blogger forums – that's when we really got traction and took off.
Enrollment in Food Blogger Pro happens just twice a year and it's happening now through November 10th so get over there and get signed up if you're ready to start your blog or take it to the next level!
---
This post may contain affiliate links which won't change your price but will share some commission.